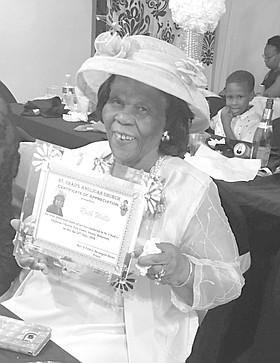 Ruth Wells
unknown - unknown
Funeral Service for the late Ruth Wells age age 89 year of Fox Town Abaco will be held on Saturday November 2nd 2019 at St. Chad's Anglican Church, Fox Town Abaco at 10:00a.m. Officiating will be Fr. Dwight Rolle assisted by other ministers of the gospel.Interment will follow in the Church Cemetery. 
Precious memories linger in the hearts of her loved ones…
Four Sons:  Fred (Deion), Erskine (Virginia), Roosevelt (Lillian), Anthony Wells.  Five Daughters: Idella (Charlie) Mills; Shirley (Alphonso) Wright; Barbara (Augustine) Williams; Valerie (Whitney) Rolle; Eleanor (Wellington) Burrows. Adopted Daughters: Selva and Yvonne. One Sister:  Lettiemae (Charles) Jones. Grandchildren: Marilyn (Garnet); Jollian (Coretta); Daniel (Vangie); Walter; Priscilla (Geraldo); Carlton (Livinia); Oswald (Kettlyn); Lakeisha (Robbie); Edmond (Tamara) Rodney (Charmaine); Sharon (David); Tina (Shannon); Indira (Devardo);  Frisco; Demetrius; Lothario ; Allantino (Lydia); Roseann; Antoinette; Anthony Jr (Judith); Shevonne (Dino); Mark; Narad; Trenaire (Barry); Zermah (Christopher); Tamara (Theophilus); Charlene; Ivan (Masheva); Trevor (Tasha); Ulyesse (Cheryl); Ateaka (Gary); Khadera (Shawn); Lafonzarelle (Kevalyn); Tristan; Keora; Alexis (Alex); Christina (Jamaal); Desmond; Austinique; Kayla; Wendyann; Valene; Wendall; Caleb; Wellio (Moniqua); Andquone.  An abundance of Grands and Great Grand children.  A host of nieces and nephews, relatives and friends including:  The entire Fox family; Wells; Thompsons; Saunders; Wilson (especially Evelyn and Alpheaus); Currys; Bullards; Jones; McIntoshs; Roberts; Bains; Parkers; Russells; Williams; Burrows; Chipmans; Coopers; Olivers; Stuarts; Simms; Adderley; Smiths; Collies; Grays; Cornishs; Rolles; Mills; Lewis; Armbristers; Archers;  Father Dwight Rolle; The St. Chad's Anglican Church; The Open Door Church; The Ebenezer Baptist Church; Auskell Medical Centre; Integrated Medical Centre; Fox Town Community Clinic; Hon. Hubert A. Ingraham along with numerous other relatives and friends.
Relatives and friends may pay their last respect at St.Chad's Anglican Church Fox Town Abaco on Friday from 5:00p.m. until service time.