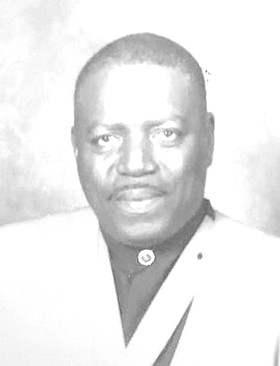 Anthony "Twin" Riley
unknown - unknown
Funeral Service for
Anthony Riley, 65
affectionately called
"Twin"
of Pinewood Gardens will be held on Saturday, 9th November, 2019 at Mt. Nebo Baptist Church, Marshall Road at 11:00a.m. Officiating will be Pastor Charles Rolle assisted by other ministers of the gospel. Interment will follow in Woodlawn Gardens Soldier Road.
He is survived by his wife of 32 years Nezlene Riley; Children: Antonia,Anthony Jr, Nickia, Neco, Nadia & Aaron Riley; Grandchildren: Teja Dean, Deneisha Dames; Brothers: Eric, Godfrey, Joseph Sr, Stephen & Edison Riley; Sisters: Cynthia Riley, Beverly Maycock, Patricia Bain, Letisha Dean; Nieces: Bridgete Farrington, Kimberley Riley, Erica & Mervinique Greene, Aneka, Sienna Riley, Ashley Collins, Lithera Johnson, Anjelica Blatch, Melissa & Bianca Riley, Joretta Carey, Joan Mott, Theodora McKenzie Major, Lavern McPhee, Raquel, Eldora, Dionne, Alphanique, Charmain McKenzie, Andrea Wallace, Carlissa Bain, Monique Tiffany, Ferguson, Melanie Deleveaux, Leila Curry,Garcia Brown; Nephew: Joseph Bradley Riley Jr, Renaldo Riley, DeAngelo Carey, Solomon Riley, Edison Riley, Genero Forbes, Christian Levarity, Chavez, Corey P.C. 4277 Clayton Young, Corey Bain, Gary Bain, Kevin Bain, Godfrey Jr & Giovanni Riley, Stephen Jr, Dion Riley, Ashton Maycock, Ryan Maycock, Mervin Jr, Merkayo Reginald Farrignton, Keiryn Blatch, Dwayne, Clyde, Leonardo, Garnarde, Raymond and Deanglo McKenzie; Grandniece and Grandnephew: Trinity, Aaron, Destiny Abagail Farignton, Gilano Powell Jr, Jade Forbes, Elijah Riley, Jordan, Dalaini Carey, Armani Maycock, Makayla, Mason Riley; Sisters and Brother's-in-law: Angela Riley, Tamara Riley, Delray Riley, Willmena, Sarah & Dyan McKenzie, Eugene Young, and Basil & Agnes McKenzie; Aunts: Manson, Brenda and Gloria Riley; Uncles: LLoyd, Leslie and Barry Riley, Theophilus Bain; Relatives and Friends: Lenora Ferguson, June, Tammy, Reggie and Kenny Thompson, Annie Roberts, Enid Saunders, Jan Roberts, Carolyn, Abby, Eva Roberts, Irene Fernander, Dr. Carolyn Rolle & Family, Breanna, Willisha, Adassa Fariggnton, Denae Dean, Sharon Seymour, Edward Dean, Christopher Neeley, Denny Moxey, Nathaniel Ferguson, Ricardo Nabbie, Kirk Thompson, Dino Rolle, Rev. Dr. Charles H. Rolle & Family, Rev Dr Charles E. Rolle & The Mount Nebo Union Baptist Church Family, Overseer Roy Burrows and the Vision of Hope Family Oral Davis, Lance Delevaux, Starrington Ferguson, Robert Jennings, Venola Mullings, Merline Swain, Kirkwood Ferguson, Robert Farquharson, Kevin Ingraham Kennedy Storr, Judy Stubbs, Desmond Seymour, Rufus Johnson, Kenneth and Antoinete Rolle and Family, Princess & Ruthamae Whyms, Christine Cleare and family, Lashae Rolle and Family, Pedro Gilbert, The Wallace Family, ASP Christopher Bain, ASP Kermie Hensey, Nurse Dalyncia Bain and Family, Brenda Harris Pinder, Wendel Sands, Renal House, Nurse Glinton, The Male Surgical 1 at PMH, the entire KFC family, The Sapodilla Family, Coco Cay Family, Super Max family, The Wilsons Family, The Oliver Family, Olive and Family, Lorraine Dames, Tawana Delancy and Family, Casey Davis and Family, Sam McKinney, Collin Wright, Sherry Benjamin, the entire BTC Family, the entire Pinewood Gardens Community, The Chapel Street Community, Diane Sands and Family, Sandra Clarke and Family, Ranny Sands.
The Family Offers Sincere apologies for any names inadvertently omitted. We thank you all for your calls, prayers and kind words during this difficult time of bereavement.
Relatives and friends may pay their last respect at Evergreen Mortuary located on Collins Avenue & 5th Terrace, Centreville on Friday from 10:00a.m. -5:30 p.m. and again at the church on Saturday from 10:00a.m. until service time.