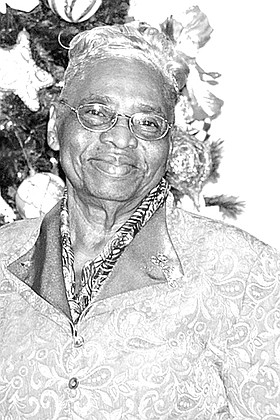 Eulease Augusta Forbes
unknown - unknown
Funeral Service for Mrs. Eulease Augusta Forbes, age 89 years, a resident of #17 Zhara Close, off Sandilands Village Road, and formerly of Kemp's Bay, South Andros, will be held on Sunday, November 10th, 2019, 10:00 a.m., at Hillview Seventh-Day Adventist Church, Tonique Williams- Darling Highway. Officiating will be Pastor Dr. Michael D. Toote, assisted by other Ministers of the Gospel. Interment will follow in Woodlawn Gardens, Soldier Road.
Eulease's illustrious and legendary legacy will continue through the lives of her thirteen children: Admiral Forbes, Joycelyn Moxey, Sydney Forbes, Dillis Forbes, Rodman Forbes, Glenda Adderley, Louise Forbes, David Forbes, Randy Forbes, Dale Forbes, Theodore Forbes, Denise Greene and Clayton Forbes; Three Sons-in-law: Earthel Moxey (deceased), Clive (Jack) Adderley (deceased) and Jayson Greene; Six daughters-in-law: Curlene Forbes, Margaret Forbes, Olga Forbes, Sonia Forbes, Pecola Forbes and Victoria Forbes; Twelve Grandsons: Al (Leann) Forbes, Leonardo Moxey, Owen (Diana), Sidney (Dominique) Forbes, Reynaldo Adderley, Rhon (Asha) Adderley, Robin Adderley, Theo Forbes, Tory Forbes, Jayson Greene II, Christiano Greene and Clayton Forbes Jr.; Fourteen Granddaughters: Bernecia (Kevin) Craig Lucia Moxey, Laverne Moxey, Lynette Moxey, Carlena (Rodger) Sands, Lynell Thurston, Rhondi Forbes, Rhavae Forbes, Dail Forbes, Demi Forbes, Alica Forbes, T'anne Forbes, Hadassah Greene, Keturah Forbes, Kaitlyn Forbes and Shania Knowles-Forbes; Sixteen Great-GrandChildren: Natayla Craig, Abigail Moxey, Joya Sands, Jada Sands, André Forbes, Alexander Forbes, Grace Forbes, Hannah Forbes, Samuel Forbes, Marlon Sergent, Reynique Adderley, Rekia Adderley, Reynaldo Adderley II, Brenisha Deleveaux, Rhon Adderley II and Adja Adderley; Three Brothers: Ross Forbes, Rodger Forbes and Bernie Turnquest; Four Sisters: Eloise Cleare, Patsy Nichols, Glorian Storr, and Lillian Forbes; Three Sisters-in-laws: Laura Forbes, Cassandra Forbes, and Ovilda Forbes; Numerous Nephews and Nieces and their respective families; Numerous Cousins and their respective families; retired teachers group; Centreville church family, and the community of South Andros, and many more too numerous to mention.
Relatives and friends may pay their respects at Cedar Crest Funeral Home and Crematorium Ltd, Robinson and Baillou Hill Roads, on Saturday from 10:00 a.m. to 6:00 p.m., and at the church, on Sunday from 9:00 a.m. until service time.