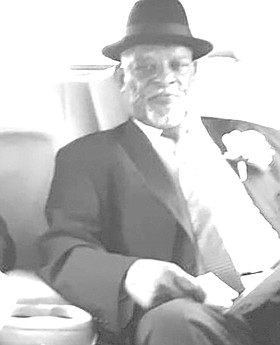 Arthur Stephen Woodside
unknown - unknown
FUNERAL ANNOUNCEMENT
Arthur Stephen Woodside, 86
 
of Stafford Creek, Andros will be held on Saturday November  16, 2019 at 11:00 a.m at the Church Of God, Stafford Creek, Andros. Officiating will be Bishop Dr. Raymond R. Neilly Pastor Max Roberts and Bishop Lewis Adderley. Interment will follow in the Public Cementry.
 
He is predeceased by his wife: Dorene Leuna Woodside.
He leaves behind to celebrate his life and morn his loss, The gems and his most precious jewels Sons: Dwight (Dennis) and Anthony (Tony) Woodside, Samuel Woodside. Adopted son Abby; Daughters: (predeceased -2018) Renae Woodside, Zante'Woodside-Tucker, Veronica Woodside, Elva Woodside-Walkine; Son-in-law: Aubrey Tucker Jr, Charles Walkine; Brothers-in-Law: Elcito Gibson, Rev. Luden Gibson Sr. Sisters-in-Law: Rev. Judith Gibson, Laura Ferguson, Isabel Gibson; Grandchildren: Ashton Woodside, Deniqua Woodside, Saphyre Nottage, Christopher Bowen, Evelyn Pasquet, Vanessa Dean, Michelle Poitier, Elaine Woodside, Leteaa Dean. 17 Greatgrand Children; 10 Great Great Grandchildren; Nephews & Nieces Carinal, Edwin, (Brenell), Asa and Alvin Bauld, Ulamae Bauld, Karil & Karlene Gibson, Kingsley, D'Alfer, Keva, Troy of (Inagua), Elciara, D'Dlamar, of (Abaco) (D'Soraji, D'Soraja, D'Thalynsy, D'Cymande, Elcito III, D'Lavante, D'Katineau, Louellen, Paulene. Leonard & Tavaris Gibson, Thalinda. Dolinda, Nicole, Raynel and Larondo Ferguson. Harrison & Katherina Gibson, Ormand & Katherine Gibson, Carmeka Gibson. Lounaihaikah, Luden Jr & Saralee Gibson. Laujanda Gibson and Juliene & Andrew Johnson and other relatives including: Aubrena Tucker-Dunn & Alexia Tucker of (Boynton Beach FlA), Mr. & Mrs. Aubrey Sr. & Family, Debbie Tucker - Smith, Mr. & Mrs. Robert & Gorgette Scavella & Family, Fiona & Aubrice Tucker, Clyde Forbes Jr.& Family, Sharon Kelly & Family; Other Relatives & Friends: Kurlin Knowles, Gaylene Forbes, Kaylor Douglas, Christine Turnquest, Monalisa Rolle & Family, Danette Edgecombe, DeKeithra Johnson, Perry & Akeela Adderley & Family, Renee Mitchell & Family, Latisha Scott & Family. Dario Deveaux, Owen Higgs & Family, Renay Nairn & Family, Tamara Dorsett & Family, Kirk Smith, Raleigh Seymour & Family, Darlene Isaac & Family, Oman Forbes & Family, Andrew, Nina Maynard & Family, Cecil Smith and Domino Association. Thurston Family and the Bel-Air Community. The entire staff of Stafford Creek Clinic, Myrtle Foulks & Family, Henderson Newton, Mr. & Mrs. Brown. Linda Williams, Nurse Edgecombe, Nurse Evans, Sargent Finley, Janet & Travis Davis & the entire staff of Carmichael Wholesale. Kevin Curry, George Pintard, The Progress Liberal Party Stalwart Counselors; Brothers of the Leaf, and The Ministry of Tourism Events Department. 
Viewing for  Stephen Woodside will be held tomorrow between the hours of 11:00 am and 6:00pm at the Hibiscus Suites at Rosewill Memorial Mortuary.
Market Street and Oxford Avenue