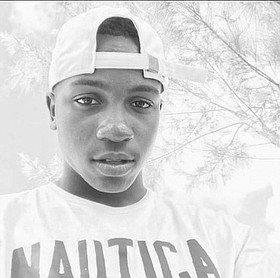 Romeo R.J. Lynes
unknown - unknown
Funeral Service for Mr. Romeo R.J. Lynes, 18 years, a resident of Gamble Heights will be held at Redeem Tabernacle Church of God in Christ, Cowpen Road, on Saturday, 30th November, 2019 at 11:00 a.m. Officiating will be Apostle Clement Neeley, assisted by other Ministers of the Gospel. Interment will follow in the Old Trail Cemetery, Old Trail Road.
R.J. was predeceased by his father, Romeo Lynes Sr. Precious memories will forever linger with his mother: Latroya Hanna, Grandparents: Sidney and Eula Lynes, Troy Holbert, and Orlando, Mother figures: Rendee Deveaux and Mikishia Cleare Sisters: Daveriel and Destiny Hanna, Brothers: Reno Cameron and Romi Lynes, Deangelo, Amego and Benjamin Hanna, Aunts: Shenese Lynes, Shannador Joseph and Geretta Collie, Uncles: Sidney, Ricardo Ansom T Moxey and Dennis Lynes, Reginald Joseph and Hugo Stubs. Grand Aunts: Rosnell Johnson Ivalee Poitier, Dorcas Bastian, Carolyn Bain, Nathalie Collie, Yvonne Gibson, Malvise Davis, Milesida Lewis, Stephanie Swan and Dean Lunes, Gloria Moree and Marsha Holert, Grand Uncles: Labn, Vernal, Thomas and Austin Lynes, Wendal Bain Shelton Bastian, Rev, Clifford Lewis, Ashyn, Shain (Christine) and Craig (Tara) Armbrister, Mark (Jasmine) Holbert Godmother: Agnes Deleveaux, Cousins: Whitney (Dalette) Ryan, Clarence, Alfred, Ken, Derrick, Elvise, Larenzo, Shameka, Quentin, Patrick, Samuel, Sheldon Jr,. Windera, Michael, Caroline, Darren, Tanny, Tameka, Rochelle, Dave, Annmarie, Sara, Stephanie, Malva, KK, Davonya, Trenee, Olivia, Melissa, Francisco, Dianne, Omar, Scottie, Carlesha, Harry, Sammy, Alex, Navi, Antonio, Anton, Linda, Eric 11, Robert Leh, Shamya, Shekinnah, Kyle, Antoinette, Latoya, Carla, Sharminique, Shantiqua, Tiara, Adam, Ayden, Sade, Craig 11, Sharmaine, Reginald, Rodney, Mrkita, Mark 11 Mateo, Shain Jr, Shaina, Ronald 111 Eric, Erica Lakita, Rapheal, Storm, Skys, Felicia, Jordan, Jewel, Nathan, Zellon, Chakalay, Chavanti, Alexandra, Dior, Dion Jr., Marajah, Theresa, Jimmy, Breanna, Myah, Antgelina, Ange, Jermaine, and Myla; Numerous Relatives and friends including: Gallie and Backyard Family, Cleare and family, Pastor Monique Hanna and Walking in the World Church, Pastor Lydia and family, Shirley Tucker and family, Christie Joseph and Family, Evelyn Collie and family, Shirley Wright and Family, Amari Scavella and Family, Rex Storr and Family, The Collie Family, The Johnson Family, Marossa Tellis and Family, Donella Davis and Family, S.C.Mcpherson School, Class of 2016 R.M. Bailey School Class of 2018 and Government High School, Class of 2019. The Communities of Gamble Heights, Montell Heights, South Andros, and Class of 2019. The communities of Gamble Heights, Montell Heights, South Andros and Acklins.
R.J. shall repose peacefully at St. Ambrose Funeral Home, (Today!) Thursday, 28th November, 2019- Friday, 29th November, 2019 from 11:00 am-7:30 pm and on Saturday 30th November, 2019 from 9:00 am until service time at the church.