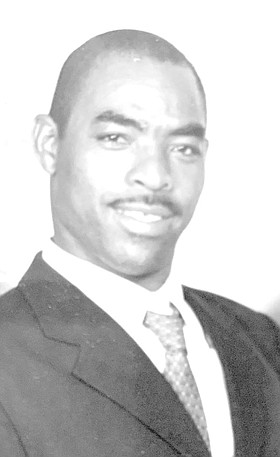 Keith Ricardo Ferguson
unknown - unknown
Funeral Service for Keith Ricardo Ferguson, age 56 of Allen Close off Fire Trail Road who died on Wednesday, September 18th, 2019 will be held on Sunday, October 6th, 2019 at 10 a.m. at Centreville Seventh Day Adventist Church, Fifth Terrace Centreville. Officiating will be Pastor Dr. Paul A. Scavella, assisted by Pastor Dr. Michael Toote. Interment will follow in Southern Cemetery, Spikenard & Cowpen Roads.
He is survived by his Wife: Katherine Ferguson; Daughter: Keithera Ferguson; Sons: Keith Jr., Keardo and Joshua Ferguson; Adopted Son: Troy Curtis; Adopted Grandson: Touraj Curtis; Sister: Helen Carroll; Brothers: Michael Rolle, Dexter, Anthony and Andrew Ferguson; Sisters-In-Law: Vesta and Terecita Ferguson, Michelle Johnson and Doris Tynes; Brother-In-Law: Charles Carroll and Clyde Johnson; Nieces: Chelsea Carroll, Aisha, Antonique, Avesha, Teandra and Alexandra Ferguson and Colette Prescod; Nephews: Marlon Rolle, Charles Carroll Jr., Anthony Jr. and Anves Ferguson, Andrew Ferguson Jr., Esmond Johnson, Chavez Johnson, Michael Gibson and Dawayne Tynes; Aunts: Melvera "Mellie" Barr, Susanna Johnson, Dorothy Williamson, Rose Ferguson, and Queenie Newry; Uncles: Oral, Lorenza, Nathaniel, Herman Jr., James, Robert, Franklyn and Jeremiah Ferguson; Cousins: Veronica Bodie, Maxine, Shirley, Carnetta, Susanna, Melvina, Martha Rolle, Patsy Pinder, Quillamae, Sarah, Dellarese, Sharon Moosa, Mavis Seymour, Margaret Melvin, Lenora Symonette, Christina, Lynette and Angela Ferguson, Edward Hamilton, Perry and Jeff Carey, Albert, Teddy, Pastor E. Danny Clarke, Kenneth, Fernon, Berkley, Jeffery and Sam Clarke, John Poitier, Steven and David Barr and Pierre Ferguson, Lionel, Alton, and Jamaal Ferguson; Grand Nieces: London, Avaree, Azaria and Aarmari; Grand Nephews: Logan, Anthony, Aiden, Anthony III, Andre, Adrian and Dru; Godchild: Braniqua Miller; Other relatives and friends including: Viola Major and Family, Nadine Rolle, The Barr Family, The Evans Family, William "Mason" Pratt and Family, The Roberts Family, Ricardo Oliver and Family, Bradley "Pena" Miller and Family, Andrew Carroll and Family, Larry Carey and Family, Glen Smith, Robert Barnett and Family, Keith Tinker and Family, Anthony Adderley and Family, Tyrone Beneby and Family, The Sherman Family, Evelyn McKinney and Family, Mavis Johnson and Family, The Leary Family, The Curtis Family, The Centreville Seventh Day Adventist Church Family, The Lyon Road Family, The Allen Close Family, The Redland Acres Family, The Cove at Atlantis Family, The Calvin Street Family and a host of other relatives and friends too numerous to remember.
Friends may pay their last respects at East Sunrise Mortuary, #183 Baillou Hill Road & Cordeaux Avenue from 10 a.m. to 3 p.m. on Saturday and at the Church from 9 a.m. on Sunday until service time.