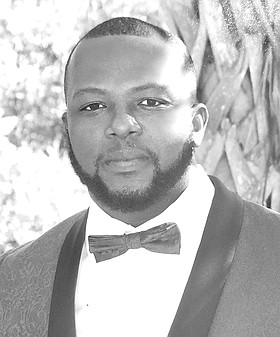 Terriel Bernard Kemp
unknown - unknown
Funeral Service for the late Terriel Bernard Kemp age 36 years of Black Piont Exuma will be held on Saturday at Bahamas Holy Bible Mission Chruch at 2:00p.m. Officiating will be Rev. Henry Rolle assisted by other minister of the gospel. Interment will follow in Lakeview Memorial Gardens, J. F. Kennedy Drive.
Left to cherish his memories: Parents: Hestine Kemp, Vivian & Curlene Rolle, Willie & Betty Rolle;
Siblings & Spouses: Marco & Minister April Rolle, Quince Munroe, Edward Smith, Kenneth & Margo
Brice, Cordero Rolle, Kathy & Greg Butler, Rosena 'Melvern' Rolle, Uriah & Lorraine Rolle, Elvy & Leslie
Armbrister, Cindy Rolle, Lynden, Gerrad & Ethenique, Lindsay, Lorenz Rolle, Wendy & Ira McPhee, Delgar-
do, Elgadro & Migdalia Rolle, Awanno & Eddison Nonhomme; Adopted Brothers: Carlos Rolle, Tyrone
Babbs, Shavado Coakley, Carroll Burroughs, Larune Russell, Mervin Munroe, Tavar Mckenzie, Javara Smith,
O'Neil Davis, Davano Curtis, Xavier Smith, Kenneal Basden, Charleston Ferguson, Terrence Patton Jr.;
Adopted Sister: Suelyn Stuart; Nieces & Nephews: Marco Jr., Jadera, Deonte, Chrispen, Cordia &
Kendal Rolle, Eltone Smith, Kenzie Brice, Kashalia & Kyle Kemp, Stacia, Ureka, Krisad, Taris, Kristen & Lau-
ri Rolle, Nuiketha Ferguson, Duran, Lathario, Anfernee & Iranique McPhee, Krizia, Trey, Gordo, Maggie,
Gemir, Emmerri. Grandniece: Reign Pedican; Aunts & Uncles: Efford (Beryl), Roosevelt, Genease
(Michelle) & Ralph (Dianah) Kemp. Florence (Robert) Gibson, Esther Moncur, Cyslin (Philip) Micklewhite,
Ann Kemp, Thomas Lockhart, Walter Kemp, Elizabeth Williams, Myrtis Gibson, Brezetta Kemp, William
Hall, Morris (Magnola), Leroy (Dossie), Thelma, Walter (Gertrude), Francis Rolle, Lundy Robinson, Valerie
Taylor. Grand Aunt: Mildred Robinson; Cousins: Ezra, Craven, Police Inspector Edgar (Melva) and ASP Kel-
ly (Terez) Kemp, Kay (Troy) Bethel, Katey Kemp & Kasey (Dencil) Smith. Michelle (Andre), Lathario & Albron
Seymour, Delwood Gray, Samantha & Navado Bastian, Tiffany Saunders, Walston, Sophia & Ethan Gibson,
Senera Davis, Nakeitha & Donny Kemp, Amado & Jonette Moncur, Andrea Guzman, Gentry Kemp, Cynette
(Dwan) Archer, Philippa, Cysren & Cohen Micklewhite, Reanzo Kemp-Smith, Raquel, Feliesha, DeAngelo,
Elijah & Anzanay Kemp, Asharan Kemp, Chalis Adderley, Enrico Penn, Barry & Bervin Brown, Beverley Rob-
inson, Bernice Rolle, Renay Davis, Kurrice Smith, Elevise Rolle, Keith and Kirk Johnson, Hon. Brensil Rolle,
Sheila Ingraham, Geroline Rolle, Sharon Taylor, Rev. Glen Rolle, Rev. Henry Rolle, Pricilla McIntosh, Dan,
Dwayne7 Esther Rolle, Selina Curtis, Nadine, Orien, Harrison, Mavis, Sheryl, Tracy, Sherine, Andrew, Da-
vinci, DeAngelo, Carolyn, Dorcas, Larry, Elaine, Pauline, Darrol, Roscoe, Gaileen, Clement, Milton, Nathan,
Nigel, Kendal, Nettie, Andrea, Wade, Marie, Chris, Leotha, Carol, Tarven, Jason, Zhivargo, Leehendro, Ruby,
Kenson, Shervin, Lithera, Garnel, Litesha, Tara & Shequell; Godparents: Nancy Patton & Sarah Smith;
Other Relatives & Friends Including: Brenda & Judy Brown & Family, Darville, Coleen, Dennis & Dean
Smith, Shinnell Rolle, Devon Rolle, Calvin Smith, Samuel Smith & Family, Burkie Wright & Family, Rev.
Althea Adderley & Family, Andrews Family, Rolle Family, Taylor Family, Munroe Family, McPhee Family,
Pinder Family, Brown Family, Patton Family, Smith Family, Ferguson Family, Judymae & Gregory Brown
& Family Black Family, Brooks Miller Construction Company, The Communities of Black Point, Staniel &Farmer's Cay Exuma.
Relatives and friends may pay their last respect at Evergreen Mortuary located on Collins Ave & 5th Terrace on Friday from 10:00a.m. - 6:00.m. and again at the church on Saturday from 10:00a.m. until service.