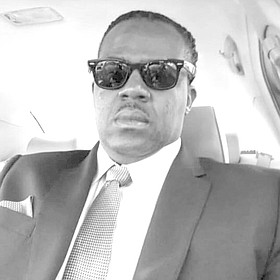 Tyrone Albury
unknown - unknown
Funeral Service for the late Tyrone Albury 48yrs of Marsh Harbour will be held on Saturday October 5 2019 at The New Mt Zion Baptist Church, Blue Hill Road South at 10:00a.m. Officiating will be __ assisted by other ministers of the gospel. Interment will follow in The Murohy Town Public Cemetery.
He is survived by:
Wife: Ernestine 'Tennie' Albury
Mother: Virginia Albury
Father : Stanley Albury ( predeceased)
Daughters: Tyronia, Tyroneka, CarlisaAlbury
Grandchildren: TyquanyaAlbury, Alexander Davis, Travis Newton, Eric Mackey
Step-daughter: Whitney Stubbs
Brothers: Samuel, Marvin, Jeremy Albury

Sisters: Theresa Hughes, Samantha Miller, Sherry Sawyer, Tracy Taylor

Aunts: Iva Duncombe, Minerva Reckley, Natasha Mckenzie, Nurse ClarettaAlbury, DeconessBerthaleeAlbury, Melissa Minns, Veronica Swain, Clarinda and CarollAlbury, Anganell Pierre 
 
Uncles: Daniel, Cedric and Leonard Sr, Bertram, and Simeon MInns, Cleveland, Leslie of New Jersey, Edney and Police Sgt 942 HaraceAlbury, Clotell Pierre, Johnathan Reckley, Richard Mckenzie
 
Nieces and Nephews: Marvin Albury Jr, Enoch Albury, Jordan, Daniel, Coby, Victoria and Dylan Hughes, Delvern Simms, Trenay Miller, Marisa Pratt, TerranAlbury, Tarage Taylor, Saminika Williams
 
Mother in law: Deanna Archer
 
Brother in law: Richard Hughes, Trevor Miller, Donald Sawyer, RimbertoTaylor,SydneyMcintosh, Richard, Wade and Lynden Archer, Everette Archer Jr
 
Sister in law : Pauline Albury,
 
Grand Nephew: Delvonte Simms
 
Grand-Aunty : Louise Swain, Freda, Betty, and Evelyn Johnson and GeniveAlbury
 
Grand Uncles: Ronald Johnson of Lower BogueEleuthera, William 'Bill' Swain,
 
Relatives and friends may pay their last respect at Evergreen Mortuary located on Collins Ave & 5th Terrace on Friday from 10:00a.m. - 6:00p.m. and again at the church on Satuday from 9:00a.m. until service time.