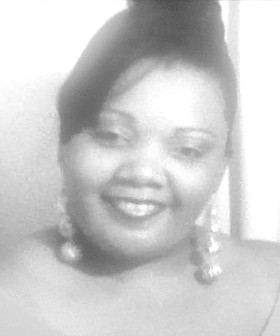 Lamanda Johnson
unknown - unknown
Lamanda Johnson age 44 years of Dundas Town, Abaco, will be held on Saturday, October 12th, 2019 at St. Mary's Magdalene Anglican Church West End, Grand Bahama at 2:00p.m. Officiating will be Oswald Pinder, assisted by other ministers of the gospel. Interment will follow on The West End Public Cemetery, West End.
Left to cherish her memories are her: Mother: Geneva Strachan; Father: Elliot Johnson (deceased); Children: Rolanda Williams and Rashawn Adderley; Grandson: Romero Edgecombe; Sisters: Wanda McIntosh (Ansel), Judy Wilmore, Cyprianna Williams (deceased), Wilma Major (deceased); Brothers: Keith Albury (Norma), Advardo Major (Desiree), Elliott Johnson, Ricardo Johnson (Latrisha), Shanardo Thompson, Laurin Edwards (deceased); Aunts: Paulina Butler, Annamae Anderson, Lovanna Johnson (deceased); Uncles: Everette Johnson (Maria), Don Johnson (Edith), Ellcott Johnson (deceased) (Vivien); Nephews: Jermaine McIntosh, Richie Thompson, Anthon Albury, Annvonnie Bowe, Antonio and Ashton (Curtisa) Wilmore, Jermaine, Julian and Jyles Williams, Adnado (Teneil) and Advardo Major Jr., Elliot Johnson III, Hiram Johnson II (deceased) (Veronica); Nieces: Bianca Thompson, Ashley Wilmore, Nakia Adderley (Thomas), Nakoya Williams, Twaniskaa Dorsett, Donishka Morley and Habryiah McIntosh, Raccasia, Ricara and Lorissa Johnson, Areeba, Advardia and Ava Major, Aaliyah, Aeateyah, Aaniyah and Aanijah Johnson, Faith Thompson,; Grand Nephews: Kaelin Adderley, J'lyn, Jayden and Khiyan Williams; Nakori Dawkins, Floyd Palacious, Ashton Wilmore Jr., Amari Kemp, Trevaun Wells, Tayvaun Dorsette, Xander and Cruz Major, Ayden and Adado Major; Grand Nieces: Nakara Adderley, Jermeka and Layla Williams, Ricasha McKenzie, Anaja Francis, Aniyah and Arianna Major; Cousins: Centina Sawyer (Emalin), Rapunzel Nelson (Edward); Lynden, Luther, Lafaye, Laru and Lecious Albury, Raquel Rice, Alexis Sawyer, Raj Sawyer, Faith Douglas, Angel Stoute, Ervin Nelson, Nancy Johnson, Cyprianna Bethel, Zina Sturrup, Jamal Gaitor, Barbie Johnson, Aaliyatt Johnson, Janet Ferguson, Kelsoanique, Ranaldo, Dakehera, Kidan Jr., Kay Gardiner, Dorothy Nicholls (Craig), Mary Cooper, Sheena Haines (Robert), Hiram Johnson III (Shorah), Linda Nixon (John), Trevor Johnson Sr., William Johnson, Deona Riley (Clarence), Elcott Johnson II (Veoshe), Neil Johnson, (Rachel), Clayre Johnson, Carol Nixon, Andrew Butler, Antonia Butler, Ian Neely Sr., (Daphne), Carlos Coakley, Vanessa Ward, Kareem Curtis, Mia Wilchcombe (Remington), Evita Johnson, Ejaye Johnson, Robert Johnson, Kim Johnson, Desiree Dean (Kidan), Alarice, Carlotta, Alaric, Syvano Lance, Fabian Anderson, Woodrow Grant; Special Friends: Nadia (David) Lewis, Erica (Henry) Theagene, Roselyn Thompson, Linda Lightbourne, Andrea Johnson, Jeanneane Dorsette, Zelma Sawyer; Godchildren: Henrick, Henrinique and Sameka Theagene, Lakera Archer, Demry Brown, Hendranique Williams; Other relatives and friends including: Tyrone Williams, Tre Dawkins, Edward Williams, Telanna Newbold, Cassandra Hardy, Quincy Jones and family, Neil Adderley and family, Jade Thompson, Collette Bootle, Lauren Stuart, Loranie Burrows and family, Damaine Pratt and family, Gersil Edgecombe and family, Denise Ferguson, Demetrio Hepburn and family, Douglas Palacious, Sandrina Hepburn and family, D'Angelo Edgecombe, David Lewis, Cleola Sawyer and family, Rev. Jacinta Marie Neely, Alcardia Saunders and family, Derek and Monique Miller, Troy Knowles, Julia and David Henfield, Angela Cornish, Shirley Lockhart, Anna Ruth and family, St. Andrews Methodist Church family, Dundas Town Community, Hope Town Inn and Marina family, West End Community, Oncology Centre family, Abaco Cancer Society, Dennis Johnson, Henry Williams II and family, Shanorry Moxey, Gary and Ruth Smith, Benjamin and Faith Thompson.
Relatives and Friends may pay their last respect at Westside Funeral Chapel, Eight Mile Rock on Friday from 11:00noon- 6:00p.m and again on Saturday from 1:00p.m. until service time.