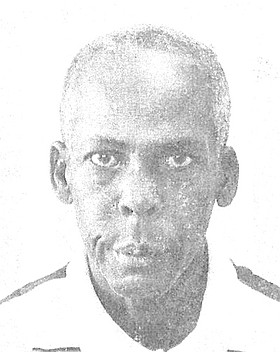 Leonard Greg Bartlett
unknown - unknown
Funeral Service for Leonard Greg Bartlett, age 60 of Fox Hill, will be held on Friday, October, 11th 2019 at 10:30am at Church of God Cathedral, East Street and Lily of The Valley Corner. Officiating will be Bishop Carlton J. Stuart, assisted by Bishop Charles Gardiner. CREMATION WILL FOLLOW.
Greg was predeceased by his Parents: Lenard James Bartlett and Sybil Louise Bartlett
Left to mourn are: Two Brothers: Anthony "Buffy" Bartlett, Arthur Thompson (Palm Beach Florida); One Sister: Dr. Ada Thompson; Sister in Law: Ernestine "Teenie" Bartlett; Nieces: Vanessa Ferguson-Walkes and Karen Bartlett; Nephews: Lavar Jordon and Beaucannon Jordan, A host of other relatives and friends including: Idaline, Karen, Rory & Darrin Culmer , Bertram, Cherene & Ingrid Cambridge, Williard, Wayne, Cheryl, Dwight, Germaine, Marva and Gillian Aranha. Claude & Claudell Farrington & Family, Adrian, Owen & Gordette Farrington, Michelle Greene, Leceitus and Paulette Forbes & Family, Jerome Williams, Clarice Williams, Sylvia Mackey, Lakeisha Mackey, K-Shaun Mackey, Krishna Campbell , Angela and Christopher Tynes, Evangeline Lightbourne & Family, Brenda Newton & Family, Patrice and Wellington Chea & Family, Dennis and Camille Miller & Family, Ingrid Kerr & Family , The Strachan Family, The Bethel family, Fredricka Bethel, Shane Bethel, George Sweeting, Ricardo Sweeting, Craig Sweeting, Kendal Sweeting, Robert Bartlett & Family, David Bartlett & Family, Paul Bartlett & Family. The Centerville Family, The Martins, The Seymour, The Fountains, The Kenny's, The Hepburns, The Albury & Tynes Family, The Hunt Family, The Rahming's The Burgzorg Family, Horace & Tony Miller.
The body will repose in the Blessed Redeemer Chapel at Ferguson's Funeral Directors, 7th Terrace Collins Avenue, Today from 12:00noon - 5: 00 p.m. and at the church on Friday from 9:30a.m. until service time.