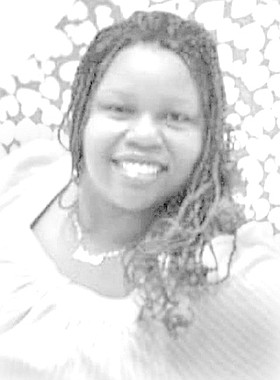 Ramona Cynara Percentie
unknown - unknown
Funeral Service for Ramona Cynara Percentie age 42 a resident of #14 Gilbert Street Kennedy Sundivision who died September 25th at The Princess Margaret Hospital, will be held 10:00 a.m. Saturday October 12th, 2019 at Chapel On The Hill Tonique Williams Darling Highway. Rev E. Etienne Bowleg assisted by Other Ministers Of The Gospel will officiate and interment will follow in The Western Cemetery Nassau Street
She was pre-deceased by : Parents Ednal G.R. & Beverley Percentie; Paternal Grandparents Herman & Elmira Percentie; Maternal Grandparents Percy & Sybil Saunders; and Brother Neil Percentie
Ramona Cynara 's memories will be treasured lovingly by:
Sisters: ElmiraMae (Stephen) Hunter, Janice (Charlton) Taylor of Exuma and Natalyia A. Wallace of Sydney, Australia
Brothers: Devon (Vanessa), Andy (Lavern), Wade, Mario, David, Sean & Quintin Percentie and Lucitas Greene
Godmother/Mother: Gloria Wallace
Neices & Nephews: Able Seaman Marianno Percentie of RBDF, Ferron, Andrea, Ambria, & Aiesha Percentie, Stephen Hunter II, Jayce, Carlton, Ceyon & Cheston Taylor, Luann Greene, Leading Seaman Lashando Greene of RBDF, Lakeishia, Lutisha, Luniquia Greene and Davrielle, Donovan & Daunte Butler
Aunts: Alvera Roslind Clarke, Ann Percentie- Russell Freeport, Grand Bahama, Margaret Saunders Bluff Eleuthera, Coralee & Dianne Percentie Harbour Island, Eleuthera, Ruth Percentie Palm Beach, Florida, Relcina Rolle.
Uncles: Bishop Stephen (Eloise) Percentie Freeport, Grand Bahama, John Lightbourne
GrandAunts: Olga Higgs of Harbour Island, Eleuthera
Godparents: Hazel Forbes of Chicago, Illinois, Sadiemae Wallace , Lee Rolle and Andrew Conliffe
Godchildren: Lyntoya Wilkes, Ronesse Hamilton, Jeffrey, Jacel & Jahmyi Moxey, Ricana Lockhart, Erin Riley, Reshmi Davis, and Ellexa
Cousins including: Paulette, Cecille (Kent) Miller, Lorrieann (David) Butler, Gertrude Barry, Rose Greene, Kayla (Lymon) Neely, Anne Greene, Alsaida (Tyrone) Darling, Wade Neely, Rodney (Cherene) Greene, Gail (Bruce) Pedican, Timothy (Toya) Saunders, James Rahming, Milton Higgs, Orian (Ona) Saunders, Elliot (Zovie) Seymour, Allison (Joan) Barry, Michael (Leatte) Percentie & William B. Percentie, Eloise, Ena, Leslie & Maurice Saunders, Sheena Barry, Marsha, Patrice &Audious Glinton, Coralee, Sheryl, Walburger, Louisa Agnes & Solomon, Ashely, William, Milton, Kofia, Shuthalia, and Stephen Percentile Jr., Keturah, Anila Clarke, Michael, Leatte, Ginger, Paige, Lotus & Andrew Percentie, Veronique, Vanessa, Vandezsa, Elliot & Vasco Brooks, Tammy, Leanya, Andreka & Kyle Rolle.
A Host of Other Relatives and friends including: Elaine (Berge) & Shawn Forbes, Asbert, Antonio, Locksley, Julian, Claudette and Terrance Brown & family, Lorna Greene, Clarise Bain, Vanria Kemp, Halson Neely, Deliah Smith, Maple Strachan, Lorraine Mullings, Dawn Kemp, Randy Stuart, Idell Thompson, Dave and Donald Hudson, Paulette Sands, Daphne Miller, Darnell Bruce, Ethelyn Wallace, Jacqueline Knowles, Chrislyn Benjamin, Althea Hudson, Thurza Pratt, Burton & Dwain Wallace, Audley, Keith, Clive, Carl, Colin, and Clay Saunders, Alice Neymour, Michelle Brown, Sherry Neely, Wilson Kelly, Carol & Chanell Wallace, Florina Tinker, Sherry & Elijah Brice, Daphne & Kendal Hepburn, M.P. for North Eleuthera Rickey & Cindy Mackey, Carol & Livingstone Stuart, Lantasha, Altemus, Rend, Merrilee, Gleanor, Duke, Jackswell & Zoe, Rosalee, Victor, Lydia, Samuel, Tony, Pamela, Cathy, Valerie, Juanita, Karen, Nancy & Dr. Leantedore Percentie Of Harbour Island, Sargent Geralene Forbes(BDOCS), WPC3578 Kenisha Forbes(RBPF), Lashonda Adderley, Rev'd. E. Etienne E. Bowleg & Mrs. Cheryl Bowleg and the entire Parish Church of The Nativity (ICCEC) Family, Thelma Fernander & Family, Sarah & Charles Robinson, Olga Robinson, Deborah Davis & Family, Tiffany Moss, Flora Hinzey, Tiffany Bonaby, Northalee Cash & Family, William & Delores Morris, Marion Morris & Family, Janatha Jetters & Family of Chicago Illinois,, Sheena Rahming & Family of Jamaica, New York, Viras Young & Family,Dwayne & Natascha McIntosh, Dave & Felicia Williams & Family, Willam II & Nelly Morris & Family, Harvey & Leoshe Gray & Family, Staff of Conliffe Bakery, Management & Staff of Leisure Travel & Tours Ltd., Dorothy Strachan, Lorna Major & Family, Margo & Jace Wallace, Errol & Bridgette Kemp & Family, Mildred Wallace, Mariletta Bethel & Family, Victoria Wright & Family, David & Charmene Wallace, Erica Johnson& Family, Niall Farquharson & Family, Jane Russell & Family, John Sargent, Mary Saunders & Family, Daniel Colebrooke, Valentino Wallace & family, Allanah Bandin & Family, Lyntoya Wilkes & Family, Ronesse Hamilton & Family, Shaquille Sands, Lorrenzo Morris & Family, Leonardo Morris & Family, Dwayne & Kim Gibson & Family, Tommy & Shawn Turnquest & Family, The Entire Saunders & Hudson Family, Bahamas Academy School Class of 1995, Nassau Christian School Class of 1995, Sabrina Tinker & Family, The Union Village Community, The Middle Town Sporting Cultural & Community Association and Management & Staff of Commonwealth Funeral Homes and a host of other relatives and friends too numerous to mention. Please forgive us if your name may have been forgotten.
Relatives and friends may pay their last respects at THE CHAPEL OF MEMORIES THE NEW COMMONWEALTH FUNERAL HOME INDEPENDENCE DRIVE Friday from 11:00-6:30 p.m. and at the church Saturday from 9:00 a.m. to service time.