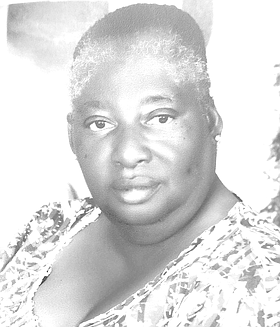 Miriam Louise Rolle
unknown - unknown
Funeral service for the late Miriam Louise Rolle age 56 years of Gray's Terrance off Bernard Road will be held on Saturday, October 26th, 2019 at 11:00 a.m. at St. Paul's Baptist Church Bernard Road, Fox Hill. Officiating will be Bishop Dr. J. Carl Rahming, Sr. Pastor assisted by others ministers of the gospel. Interment will follow St Paul's Baptist Church Cemetery, Bernard Road Fox Hill

She was predeceased by her Father: Mitchell Rolle; Mother: Arabella Burnside. Sister: Dorean Rolle, Brothers: Joseph Burnside and Michael Rolle.
Precious and lasting memories will remain in the hearts of her: Niece & Caretaker: Shavanda McPhee; Sisters: Bridgette Burnside, Tesserina Bodie, Betty Ramsey, Deaconess Audrey Capron, Myrthlyn Gilcud and Alma Rolle; Brothers: Laurence, Oliver, Jeffrey, Alexander and Franklyn Burnside and Emmanuel Rolle; Sisters-in-law: Prieta, Cleo, Sarah and Barbara Burnside, Terecita Rolle and June James – Rolle; Brother-in-law: David Capron; Adopted Children: Seth, Josh and Rhys Strachan, Ka-von and Kailyn Williams ad La-Shad Smith; .Nieces & their spouses: Elder Sylvia Gibson, Paulette and Pastor Tara Ramsey of West Palm Beach F.L., Arebia (Zane) Morris of West Palm Beach F.L., Lorinda (Dwayne) Skyers, Lashantia Burnside, Bernetta James, Ronet (Donald) Ferguson, Pamela (Allan) Pratt, La-Tasha, Shandrea, Deandra, Sargent 2802 Gina Burnside Royal Bahamas Police Force, Kendia, and Reneisha Burnside, Chandra (Robbie) Minns, Nicole (Kendall) Williams, Sheniqua (Omar) Butler, Candice and Qutell Burnside, Ella Davis, Denise Lightbourne, Carlean Moss, Wendy (Hosea) Rolle, Lethera (Lyndon) Rolle, Rosetta Brennen, Judy (Sterling) Strachan, Elaine (Christopher) Wilchombe, Glenda, Eloise, Karen, & Nicole Gilcud, Evang. Eulamae Butterfield, Avis Mckenzie, Ronna (Marvin) Major, Delerise Gibson, Taneka Bain, Minister Veronique Rolle-Sargent,Rev. Patrice Rolle, Vanrea Hepburn, Garnell Davis, Shinique Rolle, Shaarmila JuCunthia Rolle, Francine Beneby and Sharmaine Beneby; Nephews & their spouses: Livingston Burnside, Charles (Michelle) Bodie, Antone, Marcus Ramsey of West Palm Beach F.L., and Dicrius (Esmae) Ramsey, Durend (Tiffany), Raynard (Ife) and Laurence Burnside, Jason (Patsy), Peron (Tara), and Shannon (Olivia) Burnside, Baltron (Lochinva), Oswald (Donetta), Jeffrey Jr., and Owen Burnside (Hazel), Drexil (Monique) and Devon (Sandy) Burnside, Dwayne (Kathleen), Lavardo (Tiffany) and Dwight (Tiffany) McPhee, Theo Moss; Deon (Vernice) and Darren Whyte; Kelson (Stevania) Knowles, Jared (Cicely) Whyms; Franklyn Jr., and Jermaine Burnside, Omerit Hield, Prophet Durand and Reno Johnson, Anthony (Pamela) Lightourne, (Tallahassee, Florida), Supt. James Moss ESQ., Julian Moss, Archibald (deceased) Charlene Miller, Leroy (Maise) Miller, Lavardo Gilcud, Shelton (Sonia) McKenzie, Glenroy (deceased) & Movina McKenzie, Ret. Cpl. Keith Ferguson, Anson and Ricco Bain.57 Grandnieces; 73 Grandnephews; 40 Great-grandnieces and 26 Great-grandnephews; Godchildren: LaShonda Clarke, Rashayne Rahming, Tiarah Moss & Melissa Thompson; Special Relatives & Friends Including: Bishop Dr. J. Carl and Minister Evangeline Rahming & Family, St. Paul's Baptist Church Family, Pastor Sherelle Saunder & Faith Mission Church of God Family, The Entire Family of Sandilands Primary School, especially Principal Esther Cartwright, Senator Hon. Fred Mitchell & The Fox Hill Branch of the Progressive Liberal Party, Anthony Craig of (Special Care Transportation), Sharon Ferguson (Second Aide Transportation) & Family, Jenny McNeil (Personal Seamstress), Barbara Rodgers & The Sweetings Family, Lavania & Keith Baker & Family, Louise Morris (Traveling Buddy), Julia Lysaith of New York, Janet Burnside, Iverine Lewis & Family, Eleanor Clarke & Family, Patsy Moss & Family, Anthony Burnside & Family, Carlos Lamm, Antonio Brown, Alvin Parker, Lathera Sawyer, Lindira Clare, Teko Hepburn, Sylvia Mitchell, Samantha Carter & Family, Carla Leggett, Elizabeth Butler, Linda Williams, Verna Demeritte, Antionette Rahming, Kimberly Rahming, Zeebedia Fernander, Olympia Morris, Elder Deraine and Francell Pratt, Melonie & Melissa Rahming – Registered Nurse, Altamese Isaacs, Linda and Lisa Thompson, Emerald Rolle, Petral Clarke, Jennifer Prescot, Cecelia Hanna, Maureen Newchurch, Ethel Smith, Agatha Pratt, Jessica Rahming, Jessica Rolle, Beverly Knowles, Angela McPhee, Monique Campbell, Agatha Delancy, Apostle David & Elder Rose Butler, Evangelist Vivian Colebrooke, Elder Ruthmae Flowers, Jackie Wilson of Washington D.C., Emily Bastian, Donna Burrows, The Gray's Terrace Family & The Corner Boys, The Entire Fox Hill Community, Nurses & Doctors of Oncology Unit and A&E, PMH, especially Dr. Raleigh Butler & Dr. Darron Halliday, The Management and Staff of Paradise Professionals, Bozine Town Family, The Registrar General Dept., T.A. Thompson Junior High School Family, Patrica Gibson and Family, Dr. Jacintha Higgs, Lilly and Family and other relatives and friends too numerous to mention.
Miriam had many dear family and friends and it is impossible to name all of you at this time, so please forgive us if we did not call your name. We thank God for all of you who loved her.
Viewing will be held in the Halcyon Suite at Restview Memorial Mortuary and Crematorium Ltd., Robinson and Soldier Roads on Friday from 10:00 a.m. to 6:00 p.m. and at the church on Saturday from 9:30 a.m. until service time.