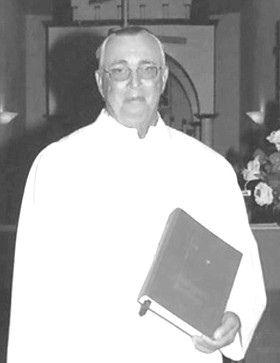 Catechist Maxwell McDonald Knowles
unknown - unknown
Funeral Service for Catechist Maxwell McDonald Knowles age 77 of Mangrove Bush, Long Island who died on January 24, 2020 will be held on Saturday February 8, 2020 at 11:00 am at St. John's Anglican Church, Buckley's, Long Island. Officiating will be The Right Rev. Laish Z. Boyd Sr. assisted by the Venerable Keith Cartwright, Rev. Fr. Kari Marcelle and Rev. Fr. Lynden Douglas. Interment will follow in The Church's Cemetery, Buckley's, Long Island.
Cherish memories will forever linger in the hearts of his Wife: Adeline Knowles; Son: Joseph Knowles; Daughters: Ingrid & Michelle Knowles; Granddaughters: Justine and Josephine Knowles, Jessica Rahming (Larada); Grandsons: Joshua, Nevin, Jalen & Javon Knowles; Son-in-laws: Nevin and Bernard Knowles; Sister: Isabell Knowles; Great Granddaughters: Khloe & Kayden Rahming; Brothers-in-law: Robert Wells, James Wright; Sister-in-laws: Darlene, Barbara, Hildred and Jane Knowles, Ethyl Wright; Uncles: Ivan Knowles and James Edward Knowles; Numerous Nieces and Nephews: Una Smalley, Pamela Brozozog (Kas), Bernie, Debra and Craig Knowles (Paula), Kyle and Kirk Knowles, Kelly Adderley, Madeline Smalley, Mizpah Carroll, Cheryl and Janet Wells, Maria Thompson, Patrick Knowles, Paula Knowles, Marsha and Darlene Treco, Dino, Joseph, Natasha and Rebecca Pelecanos, Donna, Lisa and Michael Knowles, Wayne, Jeffrey and Brian Knowles, Susan Lowe, Cheryl Hall, Charlton, George, Jerome, Johnathan and Herbert Knowles, James, Joseph, Daniel, David, and Charles Wright, Donna and Marjorie Cartwright, Marsha, Jacqueline, and Margurita Carroll; A host of other relatives and friends including: Holly Wilson and Family, Monzel Turnquest & Family, Frank and Mitzie Cartwright, Ian Knowles, Rupert Knowles and Family, Robert Taylor and Family, Rodney Burrows, Stephen Knowles, Oral Bowe, Theresita Major, Justus and Caleb Pratt, Sheena Ramacola, Hope, Conner & Annabelle Knowles, Suzanna Brozozog, Emily & Allison Adderley, Kylia, Layla, Kylie and Lola Knowles, Aimee Wells, Siobhan Hall, Edward Smith, the Family of St. John's Anglican Church, Clergy of the Anglican Diocese; other friends and relatives too numerous to mention especially: Mangrove Bush and the entire community of Long Island.
Viewing will be held in the Legacy Suite of Vaughn O. Jones Memorial Center, #103 Mt. Royal Ave. and Talbot St. on Thursday from 12:00 noon to 5:00 pm and on Friday at the Church in Buckley's, Long Island from 11:00 am until service time on Saturday.