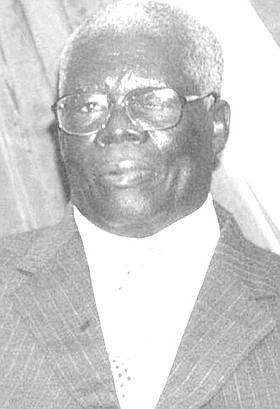 Deacon Rupert Lloyd Ferguson
unknown - unknown
Funeral service for the late Deacon Rupert Lloyd Ferguson age 87 years of #31 Bluebell Ave., Garden Hills and formerly of Forbes Hill, Exuma will be held on Saturday, February 8th, 2020 at 11:30 a.m. at First Baptist Church, Market Street. Officiating will be Rev. Diana Francis assisted by rev Wilkinson Francis. Interment will follow in Lakeview Memorial Gardens, John F. Kennedy Drive and Gladstone Road.
Left with fond and loving memories of Deacon Rupert Lloyd Ferguson and awaiting that heavenly reunion are his children: Rowena "Terri" (Edroy sr.) Dames, Kermit "KC" (Aniska) Strachan, Sr., Stephanie (Rev. Wilton A.) McKenzie, Evangelist/Sr. TCN Daphne (Deacon Alfred) Rolle, Arthur Ferguson, Sonia (Charles) Bain, Jennifer "Arlene" Darling, Cleotha (Wendell, sr.) Collie, Nyoche Ferguson, Jarred & Yasmin Ferguson, Patrice Ferguson, Patricia (Michael) Brown, Nellie Thompson, sisters: Albertha Bullard, Martha & Ledoris Ferguson, brothers: Nathan & Gladstone (Carolyn "Kay") Ferguson; sisters in law:, Florinda Johnson, Sheila Ferguson Daughters in law: Laverne & Yuzanne Ferguson; numerous God children including Maxwell Daniels III, Grandchildren: Chanelle & Jeffrey Gibson, Dr. Dionne (Trevor) Rahming, Royann (Myrick) Johnson, Rochelle Dames, Edroy Dames, Jr., Dr. Lyjia Strachan-Gonzales (Juan), Kermit Strachan, Jr., Lunsworth (Jane) McKenzie, Wilton McKenzie, Christal McKenzie, Customs Officer Grade II Shawan (Sgt. 2746 Dale) Clarke, Wilkeishna McKenzie, Corrections Officer Owen Rolle, Yonetta (Uwaine) Gelin, Sr., Leading Seaman Howard, Alfred, Jr. and Devante Ellena) Rolle, Advardo, Arthur, Jr., Ashkuel Ferguson, Corrections Corporal Charliss, Sontino Bain, Soneisha & Stephan Bain, Ronald Ferguson, Godfrey, Jr., Cyntoria, Godrick & Shanliyah Darling, Wendell, Jr. (Kristi), Dominic, Shaquille, Kristia, Kristin Collie, Francisco, Simon, PC 4151 Doricho, Dorneisha Ferguson, Shondero, Woman Marine Shonique Thompson, Destiny Dean, Jaynell Ferguson, Alicia Gibson, Antillio & Antinique Bastian, Damaine Pratt, Rothia, Krystale, Rondino, & Chrisnika Ferguson, Darius, Dion Brown, Lashan Sherman, Latalia (Marvin) Dames, Christopher, Jason, Texas & Jessica Thompson, Crystal Bethel (Garneo, sr.) Watson, Juan Gibson, Desiree Bethel Great grandchildren: Jefferson III., Gabrielle, & Natasha Gibson, Robert III, Rashad Edmonds, Kyle, Eden McKenzie, D'Shawna, D'Shae Clarke, Shamia, Shavante , Owen Rolle, Jr., Howanique Rolle, Danielle Forbes, Uwaine, Jr.,Sarena Gelin, Ashtin Williams, Livingstone III and Login Henfield, Arielle & Ariyah Ferguson, Jay'Me Hutchinson, Tre'liah, Treniah Gray, Kiana McKenzie, Gabriel, James, Micah Collie, Rosheena, Trinity Ferguson, La'Vaughn, Sydney Hamilton, Trishe Ferguson, Damaine Jr., Ariah Pratt, Jaspar Fox, Aldrin Woodside, jr., Talvin, Daytwon, Dontae, Turquoise Dames, Chrischay, Texas Jr., Jaliyah, Tahj, Jason jr., Juel, Tekye Thompson, Garneo Watson, jr., Great Great Grandchildren: Anjanaya Ferguson, Amaria Forbes,Tenier Dean, jr., Amaria Forbes, Nieces & their husbands: Winifred (Benjamin) Newbold, Iris Paul, Norma Johnson, Kimberley (Orthnell) Russell, Hilda Rowe, Katina, Aileen, Monique, Alicia, Trinette, Sandy Ferguson, Teresine Minnis, Kristen Ferguson-Rolle (Keino, jr.) Nita Armbrister, Tiffany Barton, Manesha Barton, Eulamae (Cressel) Morley, Avanell (Garland) Whyms, Madonna (Sub Lieutenant Shawn) Evans, Jacquelyn & Blanche Sears, Magnola Evie ((O'Brian) Wallace, Etta Bullard-Johnson, Simone (Andre) Thurston, Nelda (Paul) Armbrister, Collette (Bertram) Sweeting, Pamela (Brian) Strachan, Idena Rolle, Nickey Ferguson, Cynthia Thompson, Esrine Fitzworme, Katrina Ferguson, Shantel Rolle, Unadell Poitier, Erica (Dereck) Bain, Nadia (Joseph) Rigby, Inegicka Louis, Carvette, Laverne, Rita Ferguson Nephews & their wives: Jessie & Deanne Kemp, , Roosevelt Burrows, Tyrone (Lovalla Paul), Mario Paul, Vincent Adderley, Elvis, Father Oswald Jr., Austin, Kenton, Omar, Elmore, Sean, Halson, Anthony, Kevin Ferguson, Ken, Bradley, Zeke & Dario Rolle, Mannix Barton, Rodney, Dwayne, Clement, Sterling & Terry Pearce, Ramey & Orlando Louis, Tyrone, Hollis (Paulette), Emmitt, Wade, Garvin, Ethorn Bullard, Nieces in law & their husbands: Jennie Rolle, Patrice (Minister Marcian) McKenzie, Ramon Miller, Eldora Poitier, Charmaine (Forlesio) Bain, Donna (Elvis) Ramsey, Inez & James Knowles, Barbara (Trevor) Moree, Evangelist Lisa & Monique Bain, Kristin Adderley, Nina Johnson-Thompson, Sydney (Paris) Richardson, Nephews in law & their wives: Alston (Ann Rolle), Reverend Leslie (Remalia) Knowles, Superintendent of Police Edroy (Michelle) Ferguson, James, Stephen Munroe, Stanley Coleby, Rev. Ivan (Ruthann) Rolle, Livingstone (Carolyn) Rolle, Edward (Karen) Rolle, Vincent Johnson, Basil Sears, Jr., Special friend: Maud Johnson and a host of other relatives and friends too numerous to name but including the descendants of the late Jonathan & Margaret Bullard and their children (the late Lorana, Haggai, Felicia, Martha, Elijah, Wilfred, Hilda, and Ellen, the family of the late Simon Ferguson, Rev. Bernal (Rose) Bullard, Pacherlee Bullard, Earnestine (Alexander) Flowers, Sheena Bullard, Stedman Bullard, Beverley Coleby, Paula & Patricia Taylor, Godfrey Darling, Dorothy & Larry Martin, Charisse & George McKinney, Trevell Gray, Opal Cartwright, Jason Farrington, Norenson Palacious, The Collie, McKenzie, Rolle, Ferguson & Bullard families, Basil Sears, Sr., the children of Bloneva and Buelah Sears, Pamela White, Rose Rolle, Buelah Wright, Stephanie Johnson, Mazie Simmons, Rev. Charlie & Winifred Rolle, Vernal & Eulamae Rolle, Queenie Gray, Geneva Ferguson, Nerlene Nixon, Sybil, Dolly, Emerita, Felix, Nehemiah "Miah" Rolle, & Celeste Rolle, Veronica, Angerine Curtis, Florence, Rev. Salathiel Rolle, children of Hyman & Enith Taylor, children of Johnny Curtis, Freddie Davis & family, Aggerine Taylor & family, the entire Curtis & Rolle families of Rolleville, Exuma, the Bullard, Sears, & Ferguson families of Forbes Hill & Harry Cay, Exuma, The Ferguson family of The Forest, Exuma, The Jackson family, Gladys Miller & Family, Dellareece and Margo Sweeting and the Wilson Tract community, The Freetown Lane Community, The Garden Hills Community, Sis. Majorie Francis, Rev. Diana Francis, clergy and members of First Baptist Union Church, Rev. Dr. C. W. Saunders, Rev. Cedric Farquharson, Elder. Miriam Roker, South Beach Union Baptist and The Bahamas Baptist Union of Churches, The New Providence District Convention, the International Free & Accepted Modern Masons Inc. & Order of Eastern Stars (Amos Temple #34).
May his soul rest in peace eternal . . . until we meet again!
Our family is an extremely large family and it was a difficult task naming everyone. If we have somehow left out your name, we do apologize for the oversight. It is not intentional.
Viewing will be held in the Celestial Suite at Restview Memorial Mortuary and Crematorium Ltd., Robinson and Soldier Roads on Friday from 10:00 a.m. to 6:00 p.m. and at the church on Saturday from 10:00 a.m. until service time.