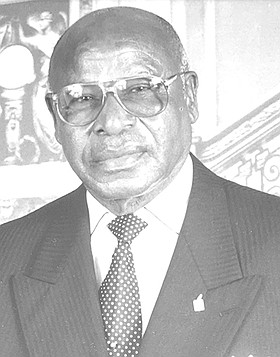 Past Grand Exalted Ruler Sidney Bernard Young
unknown - unknown
Memorial Service for Past Grand Exalted Ruler Sidney Bernard Young age 89 of Prince Charles Drive , will be held (today) Thursday February 06,2020 at 7:30 p.m. at Wesley Methodist Church , Malcolm Road ,Nassau ,The Bahamas.
Funeral Service for Past Master/Past Grand Exalted Ruler Sidney Bernard Young age 89 of Prince Charles Drive, will be held on Saturday February 08th,2020 at 11:00 a.m. at Wesley Methodist Church ,Malcolm Road , Nassau ,The Bahamas .Officiating will be Rev. Cecil Newbold assisted by other ministers of the gospel. Internment will follow in Woodlawn Gardens ,Soldier Road.
Sidney's precious memories will forever linger with his loving and caring wife of 39 years, Betty Marina.
Children: Apostle Bernard Young (Rose), Debbie Young, Minister Christine Young-Rahming,Bradley Young Sr. (Charmaine). Charles Young Sr. (Lisa), Pastor Lynden Young Sr.,Sharad Young (Sharanda), Farouk Taylor (Lynette)​
 
Grand Children: Derron Garland, Daysha Young, LaManda Rahming, Rev. Lambert Rahming (Bria), LaKeem Rahming, Toni-Anne Young-Smith Cadero), Bradley Young Jr., Derrick Young, Charles Young Jr., Chet Young (Kyra), PC 3732 Lynden Young Jr., Nurse Lyndell Young, Lathan Young, Lavaughn Young, Alicia Young-Campbell (Valdez), Keishe Young, Bernard Young Jr., Belinda Young-Williams (Troy), Bianca Young-Taylor (Michael ), Marc, Farrah, Lynell and, Ferrell Taylor. Aaliyah Adderley, and Benson Davis .22 Great, Grand children. 
Adopted Children: Chavez Thompson (Aldeka) Sherryce Thompson, Shaneka Davis (Enero), Michael Thompson (Knisia) Shalyssa Dames (Deon) ,Enero Davis Jr, Apryl, Jahiem Davis. 
Sisters-In-Law: Gertrude Young, Avis Wray (Victor) of Miami Florida, Hortence Glinton,Marion Sweeting (Simeon), Laura Knowles, Leona Rodgers, Janet Colebrooke, Judy Colebrooke, Colamae Gardiner, Cheryl Cox. 
Brothers-In-Law: Michael Colebrooke (Christine), R/CPL Patrick Colebrooke, Wilton Colebrooke Jr.,Sharon Storr. 
Numerous Neices & Nephews Including: Gloria Young, Carolyn Young, Vivia Young, Tessa Nottage, Joan Rolle (Fairbourne), Dorothy Bain, Sharon Young, Marilyn Young, Tanya Young, Donica Young, Tamika Young, Charlene Rolle, Eleanor Elenington. Merlene Forbes, Betty Jane Dancy, Jenifer Glinton, Patricia Rolle-McCartney, Donella Rodgers, Joanne Gibson (Willard) Micaella, Virginia
Bowe(Richard) Rosie Davis, Lisa Simmonds (Kevin) Tina Gibson (Solomon) Keva Gibbs,Lauretta Smith (Andrew), Vanria Gibson, Lisa Simmond(Kevin),
Jenny Mathurin (Bert), Bernadette Forbes (Brian), Deborah iFriem (Louie),)Maprin Thompson, Crystal Ferguson , Caroline Thompson, Sanfra & Jada FosterMIchael Young, (Louise), William Young (Janet), Brian Young (Charmaine), Reynold Young (Alicia),
Evangelist Lincoln Young (Martha), Wayde Forbes, Samuel Forbes Jr., Bradley Cooper (Ettris), David Davis, Vaughn Gibson, Harry Strachan (Kelly), Stephan Strachan, Kevin Gibbs. Charles Thompson, Dwayne Rodgers, Robert Cox, Douglas Knowles, Dave(Tiffany), Darieo (Annita), Denell (Robert) Darrell, Daniqua (Geno) 
Cousins:¨ Helen Johnson & Family, Brenda Saunders & Family, Perriilyn & Family, Betty Knowles &
family, Judy Alleyne & Family, Opal Bastian & Family, Jervis Humes & Family, Cleveland Humes & Family,
Merlene Woodside & Family, Bethel's Family, Mavis Jackson & Family, Albertha Rodgers & Family, Uncle Ivan Thompson 
God Sons: Gerron & Germal Cooper 
Other Family & Friends: Rev. Cecil Newbold & the entire family of Wesley Methodist Church , Malcolm Road, Rev. Livingstone Malcolm & Family, Rev. Theophilus Rolle & Family, Rev. Leonard Roberts & Family, Rev. Kenneth huggins & Family, tHE ENTIRE LOCAL PREACHERS OF THE NASSAU CIRCUIT.(mcca)
Mrs.,Annie Diggis & family, Mr. MICHAEL THOMPSON & FAMILY, MRS. MARY DAVIS & FAMILY,
BELIEVERS BIBLE MINISTRIES CHURCH FAMILY. THELMA GIBSON WOMEN'S GROUP, Mr. Fernly Palmer & family, Mr, & Mrs, Stanly Major & FAMILY, Mrs. Ida Saunders & family,
Cecelia & George Cooper & family , Bishop Randy Fraser & family, Rev. Isolene Rolle & the Grandeur Association, Mrs. Donna Bannister & the Wesley Church Choir., Dr. Winston Rolle & family, the Exalted Ruler. Bro. Julian Sands and the members of Reuben G. Knowles Lodge 1760. Members of Eureka Lodge 114,E.R. Hanna & family, Bro. Felix White & family ,Dt. Cecelia Cooper and The entire Daughters of Elks of the Bahamas State Association, Bro, Raynard Edgecombe, the Entire Membership of The Improved Benevolent, Protective Order of Elks I.B.P.O.E. of W. (BAHAMAS),Gustavus Ferguson, RWM OF ST. Michael Lodge #1634 S.C. & Office Bears . Llewellyn Astwood, Worshipful Master& Members of Royal Eagle Lodge 1
Mr. Arthur Chase & Family, Mr. Clement Foster & Family, Lynette Russell and family,The Family of Baptist Health International South Florida and the Bahamas Office, Ms. Rose Rahming, Management & Staff of Speedy Tire Repair, Economy Bus Line Services. Ms. Joy Thompson, Mr, & Mrs, Ogden ("Ken") Aranha, Dr. Roland Hamilton , Rosita Brazile. Joy Sargent, Marcia Evans & family, Cheryl Fernander, Sandra Rolle & family,Manette Demeritte & family , Mrs. Patricia Bell & family , pastor Enid Clarke and family.Hon. Philip "Brave" Davis, Rt.Hon . Perry G. Christie ,The Officers and Members of the Progresive Liberal Party , The Stalwart Couincil.
The Family Sincerely apologizes for any names in advertently omitted or misspelled.
Viewing will be held at the Lynden Pindling Center , Farrington Road on Friday February 7th, 2020, from 11:45a.m. to 4:00 :p.m. and on Saturday February 8 ,2020, at the church from 9:45 a.m. until service time.