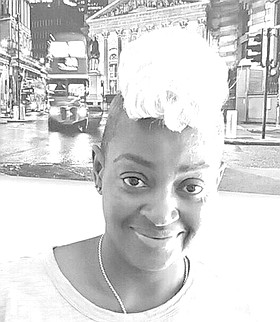 Advilda "Ann" Vies-George
unknown - unknown
Funeral Service for Advilda "Ann" Vies-George, age 47 of Jacaranda Street, Pinewood Gardens will be held on Saturday, February 22, 2020 at 10am. at Agape Church, Malcolm Road & Golden Palm Estate Off Kennedy Subdivision. Officiating will be Bishop Helen McPhee assisted by Pastor Albert Campbell Sr. Interment will follow in Woodlawn Gardens, Soldier Road.
She is by her Mother: Willamena Brennen-George; Father: Clovis George Sr.; Spouse: Jermaine Bannister Sr.; Daughters: Samantha & Antoinette Bain; Sons: Tranell & Alonzo Bain, Jermaine & Leo Bannister; Grandsons: Antonio Baillou & Trayon Bain; Granddaughter: Treasure Baillou; Sisters: Coralee Brown (deaceased) Michelle Wood, Shantell Brennen, Karen Duncan, T'shan George, Monique Black, Rosalee Bain; Brothers: Louise, Moses, Osteen & Asher George and Clovis Brennen; Brothers-in-Law: Jervon Duncan, and Ken Wood Sr; Nieces: Kimberley McIntosh, Bernikque Moss, Lashante McKenzie and Lorese George; Nephews: Ken Wood Jr., Rio Bain, Adrian & Aaron; Grandnieces: Frantasia; Grand Nephews: Khalil, Nehemiah; Aunts: Barbara, Faye and Nelly; Uncle: Carold Scott; 
Cousins: Hasley, Princess, Margaret, Adriana, Lorenzo, Arnold, Kelson, Nathalie, Vanda, Jeffery, Ruth, Godfrey, Melissa, Keith, Sharon, Bradley Kaylan, Monique, Doramae, Stephon, Naronette, Angela, Trevor, Ann, Jackie and Barbara; Godchildren: Nakia Dean, Antonio, Teshawn and Tevin; Extended Family: Ruthnell Fawkes & Family, Christine Murphy & Family, Kimberley Farrington & Family,  Emily Ward & Family, Portia & Kenneth Dean Family, Princess M. Pinder, Evangelist Sandra Johnson & Family, Ernest Bowe, Leona Dean & Family, Lavone Cleare & Family, Maurene Payne & Family, Shantell Lightbourne, Aaron Reckley, Shanderia Wright & Family, Calvern, Sindy Astwood, Stephanie Bain & Family, Idamae Bain & Family, Cunnigham Family(Abaco), Sereen Bain, Brittney, Meline, Antonio Baillou Sr., Mavranae Hepburn & Family , Lucien, Paul & Sherry Miller, Meredith Stubbs & Family, Julia Pinder & Family, Insa & Family, Yvette & Family, Ingrid Nesbitt &Family, Elvina & Family, Parker, "Boy", Keshanae & Family, Mikey, Dominique McPhee, Valdamae & Family, Jeffery Culmer & Family, Edris, Kirk, Fanny, Gretline, Shavonne, Pammy, Nita, "Onion", Lee, Shannon, Lloyd family, Muff, Tanya, monique stuart,Shantell, Balty, Nicky & The House of Pain Family, Elsie, Hilda, The Davis Family, Chino, Amos Thompson, Dave Sands & Family, Simad, Leroy Neely, Dericka, Glenroy Williams & Family, Amos Thompson & Family, Jerome & Alexys, Romeo Kelly & Family,  East Street, Peter Street, Brouhgam Street, Grove, Windsor Lane,  Quakoo Street, Bain Town, Seven Hills, Bamboo Town, Joans Height  Family, Patrick Sturrup, Ms. Walkes, Ms. Bethell & The Ministry Social Services Blue Hill Road Family, Early Childhood Centre East Street Family, Shawn, Vardo & The Government House Family, Dr. Kellini & The Bahamas Heart Centre Family, Oncology Clinic P.M.H, Gynae Ward P.M.H, Sonia Bostwick, National Insurance Wulff Road Family and may others to numerous to mention.
 The body will repose in the Blessed Redeemer Chapel at Ferguson's Funeral Directors, 7th Terrace Collins Avenue, on Friday from 10a.m.- 5p.m. and at the church on Saturday From 9 a.m. until service time.