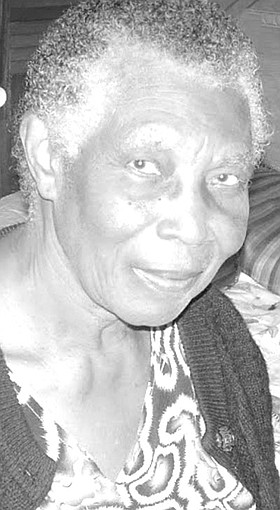 Delores Williams
unknown - unknown
Funeral service for the late Delores Williams age 84 years of #10 Dignity Gardens will be held on Friday, February 21st, 2020 at 11:00 a.m. at Anointed to Reign Kingdom Ministries Golden Isles Road. Officiating will be Pastor Dr. Shameka L. Morley Senior Pastor assisted by Associate Pastor Patsy Morley. Cremation will follow.
Left to cherish her memories are her Son: Bradbury Bowe Williams Daughters: Janeth Culmer & Sherill Hanna Adopted Daughters: Melinda Bullard, Cassandra, Samantha, Casey, Veranique & Nyoka Hanna Adopted Sons: Paul, Amos, Ednol & Wayne Hanna Grand Children: Erica Munroe (Maxwell Sr.), Isheka Ellis, Shinqueka Culmer (Hillard Sr.), Philip Smith & Shacanta Burrows Great Grand Children: Jimmica Williams, Maxwell Jr. & Mazell Munroe, Kevonya, Kevin, Jayel, Taejon, Natalia, Hillard Jr., Hilleah, Kalel, Ka-chett, Caden, Charlene & Arianna Great Great Grand Children: Emica, Emai & Ethan Williams Sister: Louise Williams (Freeport, Grand Bahama) Nieces: Veronica Pratt (Ellerton), Eleanor Simmons, Myra Ferguson(Hosea), Bridgette Knowles of Lenexa Kansas, Charmaine Saunders of Lakeland Florida, Clintona Lindo (Michael) Freeport, Grand Bahama and Portia & Mahalia Williams of Freeport, Grand Bahama. Nephews: Rodrick Armbrister, Dwayne Armbrister (Lisa) of Charlotte, North Carolina, Ricardo and Keith Saunders , Johnny Saunders of McDonough, Georgia, Corey Williams (Nicole) and Vernon Williams. Numerous Grand and Great-Grand Nieces and Nephews including: Darryl, Dario and Devane Pratt, Tisa McDonald, Ketress Williams, Pauline and Shaneen Rahming, Anya Jefferson, Shazarah Humes, Joy Michelle Knowles, Avonne Armbrister, Tashyma and Chaquatawa Armbrister, Sgt.2955 Mario Rahming, Partrick Laing, Travis Dorsett, Byron Jones, Roderick Jr., August, Hakeem and Kradashain Armbrister, James Jr., Chavaz, Joshua, Travette and Manasseh Knowles, Keithra, Keara, Leara and Jahro Saunders, Terrell Knowles, Gary Buchanan, Dequanniqueqa (DeaDea), Nahtavia and Dequhn Simms, Shakera Miller, Philicia and Philippa Johnson, Frederick McDonald, Kiash and Zyaire Rahming. Other Relatives & Friends including: Enid Saunders & family, Kenneth Ward & family, Dianne Ward & family, the Roberts' family, Cynthia Riley Sargent & family, Nathalie Griffin & family, Corinne Duncombe & family, the Pratt family, family of the late Viola Rolle, family of the late Izetta Bartlett (Grand Bahama), Lundy Russell, the Styles family, Mr. & Mrs. John Antonas & Family, Pastor Dr. Shameka Morley & The Anointed to Reign Kingdom Ministries Church Family, Elder Boston & Patsy Morley & Family, Pastor Cindy & Michael Smith & Family, Rodena Wilson & Family, Mrs. Kim Butterfield, Pastor Deborah Gibson, Mckinney Bancroft & Hughes Family, Kelly's House & Home Family, Senior Citizen Home, Yellow Elder Family especially Ms. Smith, Ms. Adderley & Ms. Evans, Pastor Ronald & Denise Lloyd & Family, Pastor Timothy & Sophia Dorsett, Pastor Kydrum & Inga Saunders, Mr. Lawrence Taylor, Mr. & Mrs. Lloyd Rolle, Minister Patrice Woodside & Family, Genevieve Mckenzie & Family, Mr. Wayde & Raquel Sands, Mrs. Lloyd & Virginia Jones, Ms. Denise Russell & Family, Ms. Melonie Whyms, Ms. Darlene Mckenzie & Family, Edwin & Vincent Riley & Family, Nicola Hanna & Family, Delores Mackey & Family, Samantha Smith & Family, Diane Davis & Family, Lenora Taylor & Family, Samuel Darling, Sgt. 1947 Dwayne Colebrooke Sr. & The Doctors & Staff of Female Medical II at Princess Margaret Hospital.
Viewing will be held in the Serenity Suite at Restview Memorial Mortuary and Crematorium Ltd., Robinson and Soldier Roads on Thursday (TODAY) from 10:00 a.m. to 6:00 p.m. and at the church on Friday from 9:30 a.m. until service time.