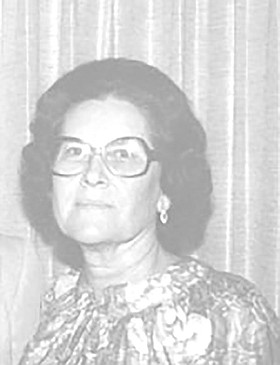 Byrle Winifred Albury
unknown - unknown
A funeral service for the late Byrle Winifred Albury, age 94 of Blair Estates, Nassau, The Bahamas, died peacefully at her residence, on Sunday, 19th January, 2020, will be held at Ebenezer Methodist Church, East Shirley Street, Nassau, on Saturday, 25th January, 2020 at 11:00 a.m.
Reverend Milton Lightbourne will officiate.
Mrs. albury was predeceased by her husband, Marcel H. Albury.
She is survived by her sons, Michael H. Albury (Mike) and William M. Albury (Billy); daughter, Catherine W. Albury (Kay); grandson, Michael C.M. Albury; granddaughters, Rebecca Albury Spelman, Amanda Albury and Tiffany Albury Diamantis; brother, David H. Sands; great grandchildren, Charles M. Albury, Aidan Albury, Elena Diamantis and Gillian Spellman; daughter-in-law, Debbie Albury; sister-in-law, Ella Sands; cousins, Pat Bethel, Wayne Bethel, Elmer Bethel, Steve Bethel, Earl Bethel, Hubert Bethel, Percy Sands, Ivan Sands, Colin Bethel, Mark Bethel, Thelma Pinder, Iva Pinder, Ivy Gates and Family and rosie Saunders and many other relatives and close friends including Shirley Sawyer, Denise Hicks, Dorinda Olsen, Kathyrn Curry, Lelia Curry, Patrice and Wellington Chea, Elane Ford, Lorraine Phillpot, Norma Lightbourne, Hartis and Greta Pinder, Donna Albury, Maria and Houston Pinder, Irene Butler and Sandy Tijerina.
Special thanks to Charmaine King and Rose King Rolle; adopted granddaughter, Eleki Burnett and thanks to the Men's Fellowship, Focus Club and Ebenezer Methodist Church Family.
In lieu of flowers donations may be made to Bahamas Heart Association, P.O. Box N. 8189, Nassau in memory of Mrs. Byrle W. Albury.
Arrangements by Kemp's Funeral Home Limited.