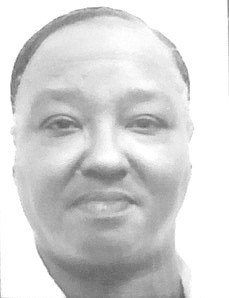 Floretta Maria Butterfield
unknown - unknown
Floretta Maria Butterfield, 61 years of Esmeralda Avenue, Nassau Village, died peacefully at her residence on Tuesday, 21st January, 2020.
She is survived by her Husband: Rolston Rose; one (1) Son: Baron Thurston; Mother: Rowena Bullard; three (3) Sisters: Jennifer Butterfield, Bridgette Walkes and Colamae Butterfield; eight (8) Brothers: Peter and Jeffrey Butterfield, Leon Clarke, Wayde Munnings, Ricardo Wallace, Shelton, Don and Felton "Bumpy" Butterfield; six (6) Grandchildren: Dwayne, Deja, Baronique, Heaven, Shanae and Shanique Thurston; six (6) Aunts; numerous nieces, nephews and cousins, and a host of other relatives and friends including: Malissa Evans-Hall, Derek Wilson, Stephen Poitier, Jamal Evans, Arthur Cambridge and family and Muritta Scavella and family.
Funeral arrangements will be announced at a later date.