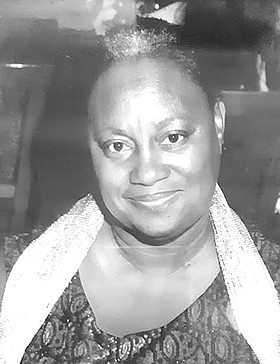 Verona Virginia Newbold
unknown - unknown
Celebration Service for
Mrs. Verona Virginia Newbold, 57
Will be held at St. Peter's Anglican Church Green Turtle Cay, Abaco, Bahamas Saturday 25th, January 2020 10:00 A.M. OFFICIATING: Fr. Bryton Ward Assisted by: Fr. Deangelo Bowe Fr. Dwight Rolle Catechist Joel Reckley INTERMENT Public Cemetery Green Turtle Cay, Abaco, Bahamas  
Mrs. Newbold Memories will always be in Husband: Arnold Newbold Children: Kira Sears(Adam), Sheena, Amber, and Jade Newbolld Grandchildren: Kailum Murray, Nyala and Ariel Sears Step daughter: Lakeisha Bodie Sisters & Brothers: Ruth Jones(Lincoln), Vernika McIntosh( Earklyn), Veronica Swain, Vernal Cooper (Kathryn), Victor Cooper(Trina), Vincent Cooper (Ellouise) ,Virgil Cooper, Verna McIntosh (Omri), Jackson Davis (Ruthamae), Aunts &Uncles: Era Balliou, Euclid Balliou (Majorie), Ehood Balliou, Stafford Cooper, Robert Newbold Sisters & Brothers-in-Law: Shirley and Lisa Newbold, Louise Bethel, Georgina Rolle(Mark), Terry McKinney, Franflo Thomas(Ernest), Gregory Newbold(Patricia) , Francis Newbold (Kendra), and Arthur Newbold Nieces & Nephew: Wesley (Nylah), Kyle(Tenoviar), Emerson, Cedric(Vandette), Leland(Kepha), Lance, Lewis(Madaline), Kelly, Kimberly(Jamal), Keva Angelica, Brad(Nia), Sasha(Willard), Chad (Cassie), Sonya, Patiqua, Zoe, Symone, Kyle, Vince,Vashtie,Claude, Elias, Cassie (Lamont), Chantelle (Almond), Verdell, Omri Jr, Jeremy, Stacy, Saniyah, Cedric Jr., and Stephanie Cooper, Trevon, Garrison, Jamal, Mateo, Aaliyah and Latonya, Lynae, Lathan, Quest, Ariah, A'mani, Johnique Potier, , Darnell Johnson, Reve McIntosh God Daughter: Jonniska Curry Special Friends: Karen Reckley, Sandra McIntosh, Rosa Albury, Julie Smith, Lisa Albury, Esther Bethel, Francis McIntosh, Stacy Lowe, Terry Fergurson, Junie McIntosh, John, Maria& Laura Sawyer, Rose Russell, Tracy Russell Other Relatives & Friends: Rose Mary Newbold, William Johnson, Sancha Newbold, Kendice Murray& Family, Keishel Higgs & Family, Stephanie Sears & Family, Rufus Sears & Family,William Knowles & Family, Kirk Reckley & Family, Hazel Riby, Sanria Green, Coralee, Stanley and Steve Pedican, Sharmaine Pierre, Violet Smith & Family, James and Anna Balliou, Alice, Minera, and Crystal Smith, Jessie Burrows, Martin Bootle & Family, Althea and Ricardo Balliou, Aldina Hield, Albert and Janet Mortimer, McIntosh Family, Angela Bodie and Family, Michael Leverity & Family, Judy Curry, Clyde Cornish & Family, George Cornish & family,Ted Murray & Family, Clive Stubbs, Roosevelt Rolle and Family, Donald Outten and Family. Special thanks to Dr. Edward and Pam Mobley and Dr. Robert & Trina Sasaine and the Doctors and staff at the Marsh Harbor Clinic and the entire community of Green Turtle Cay, Abaco. If we have accidentally omitted anyone's name from the list of relatives above, we apologize as it was not our intention. May God continue to blessed everyone one of you.
Relatives and Friends may pay their last respects at St. Peter's Anglican Church, Green Turtle Cay Abaco on Friday from 10:00am to 6:00pm and again on Saturday at the church  from 8:30am to service time.
Services are entrusted to Serenity Funeral Home and Crematorium #153 Baillou hill Road(Directly opposite B.P.L)
"Where the NAME IS SERVICE AND YOUR LOVED ONE OURS "