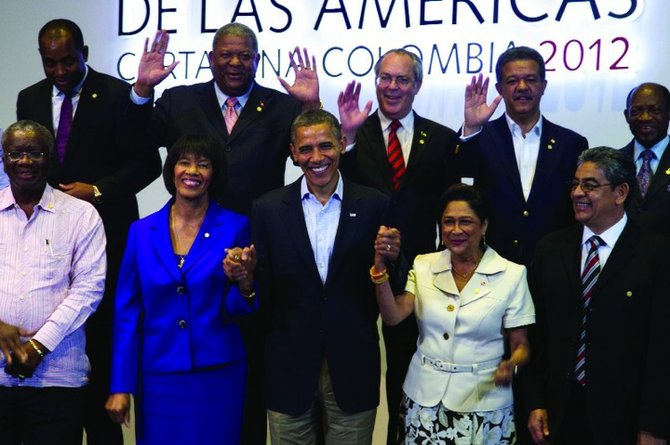 DEPUTY PRIME MINISTER Brent Symonette at the Summit of the Americas last week alongside other world leaders including US President Barack Obama. Front row, from left to right- Barbados' Prime Minister Freundel Jerome Stuart, Jamaica's Prime Minister Portia Simpson Miller, President Obama, Trinidad and Tobago's Prime Minister Kamla Persad-Bissessar, Belize's Deputy Prime Minister Gaspar Vega. Back row, from left- Dominica's Prime Minister Roosevelt Skerrit, Antigua and Barbuda's Prime Minister Winston Baldwin, Mr Symonette, Dominican Republic's President Leonel Fernandez and Saint Kitts and Nevis's Prime Minister Denzil Llewellyn Douglas.
Stories this photo appears in:

NEVER mind the election season hype - most Bahamians already know who they will support come May 7, Deputy Prime Minister Brent Symonette said.