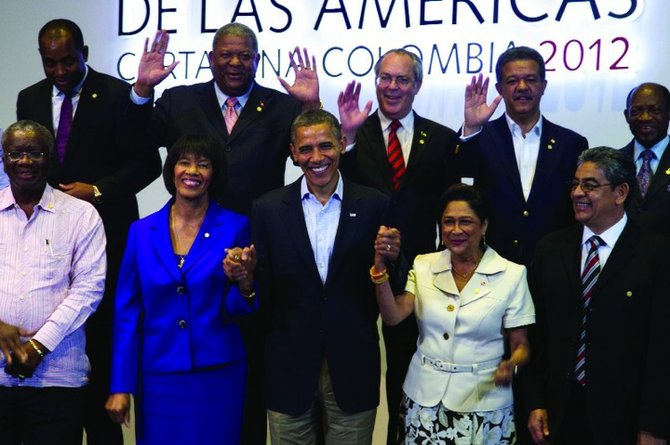 By CELESTE NIXON
Tribune Staff Reporter
cnixon@tribunemedia.net
NEVER mind the election season hype - most Bahamians already know who they will support come May 7, Deputy Prime Minister Brent Symonette said.
Discussing the fanfare that surrounds elections in the Bahamas, Mr Symonette said the size of party events doesn't necessarily reflect voting trends.
He said: "A lot of that is politics; Bahamians like rallies. Some Bahamians go to both rallies - they like the entertainment.
"Whether your rally is bigger than my rally is really left up for the press to decide.
"At the end of the day I think the voter has in his or her heart what they want to do and will exercise their vote accordingly."
With less then two weeks until the election, Mr Symonette said, the FNM campaign is going well.
"As you've seen recently it has been interesting, things are very busy," he said. "Certain candidates are vying against each other. We trust at the end of the day it will be a peaceful election and the people will be able to express their choice."
In mid-January, Prime Minister Hubert Ingraham announced that after more than 20 years in front-line politics, Mr Symonette would not be seeking re-election.
Paying tribute to his deputy during the announcement at FNM headquarters, Mr Ingraham said that in his roles as minister of tourism, attorney general, minister of foreign affairs and immigration, and deputy prime minister, Mr Symonette made a significant contribution to the country.
He said "Brent has been a valued, competent and effective minister of government" who gave "long distinguished service to his country in the political arena as well as in other areas of our national life".
When asked about the highlights of his political career, Mr Symonette said it was an honour serving the Bahamian people and representing his country.
"I think in being elected Deputy Prime Minister and being able to represent the country around the world, I have been very fortunate.
"As you saw, last week I was with President Barrack Obama, the Prime Minister of Canada and other leaders from throughout this region.
"I represented the Prime Minister in Australia with the Queen and leaders of the entire Commonwealth. Those have been fantastic occasions, very memorable," he said.
"Being able to contribute to the development of the Bahamas for five years and being involved in a number of decisions in the press that people have criticised and also complimented - these have been wonderful years."
Mr Symonette will stay on as Deputy Prime Minister and Minister of Foreign Affairs until the election, and as deputy leader of the FNM until the party's next convention.