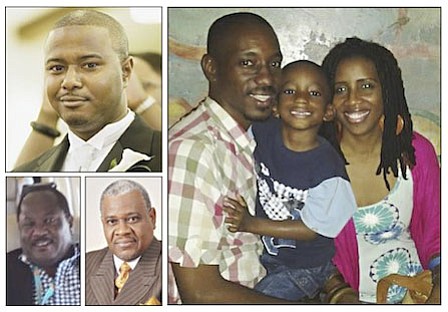 The Bahamians killed in the crash with Dr Myles Munroe and his wife Ruth in Grand Bahama. From left, co-pilot Franhkan Cooper (top), pilot Stanley Thurston (bottom), Dr Richard Pinder, Lavard and Radel Parks and their son Johanan, five. The identity of the ninth victim of the crash, a visitor from Africa, has not yet been released.
Stories this photo appears in:

Prime Minister Perry Christie and Minister of Transport and Aviation Glenys Hanna Martin yesterday visited the crash site at the Grand Bahama Shipyard, where the Lear 36 jet went down on Sunday killing Dr Myles Munroe, the president and founder of Bahamas Faith Ministries International, and eight others on board.