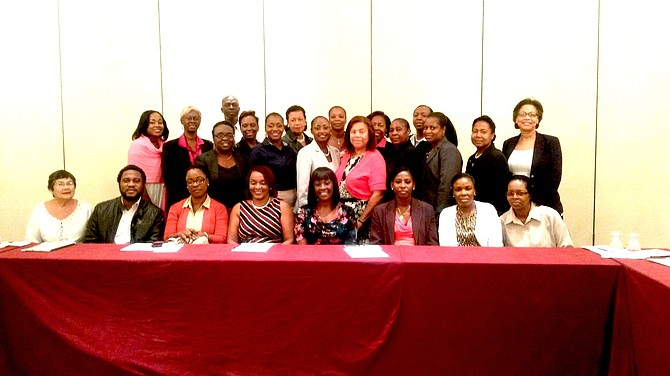 Pictured with Mrs. Mena Griffiths of the Templeton World Charity Foundation (far left) and Mrs. Nicole Campbell (standing far right) are the teachers who attended the luncheon at the British Colonial Hilton – Marlene Thompson (Kingsway Academy), Marvia Rolle (L.W. Young Jr. High), Kizzy McPhee (C. H. Reeves Jr. High), Raquel Turnquest (C. R. Walker Sr. High), Vanessa McQueen (Anatol Rodgers High), Deatrice Adderley (S. C. McPherson Jr. High), Shevron Thomas (Doris Johnson Sr. High) Jacqueline Mott (Aquinas College), Emille Hunt (C.V. Bethel Sr. High), Kerron Knight (St. John's College), Charlain Collins (Temple Christian), Krystel Thompson (Queen's College), Marjorie Pennerman (Anatol Rodgers), Michelle Robinson (St. Andrew's School), Geta Williams (C. C. Sweeting Sr. High), Rujean Hart (S.C. McPherson Jr. High), Cylestina Williams (C. I. Gibson Sr. High) and Stephen Sands, District Education Officer, Southwestern District.
Stories this photo appears in:

THE Templeton World Charity Foundation is hoping that entries for their 2015 "Laws of Life" essay competition will surpass the 1,000 that took part three years ago.