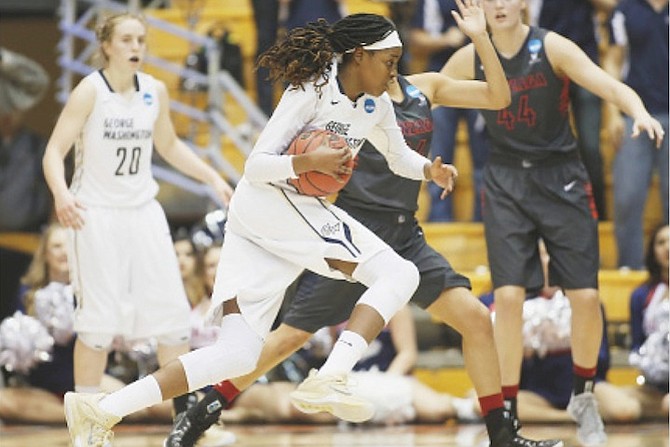 JONQUEL JONES in action.
Stories this photo appears in:

WITH another stellar performance in the Women's National Basketball Association (WNBA) pre-season, Bahamian star Jonquel Jones has the Connecticut Sun franchise eagerly looking forward to the regular season.

UNCASVILLE, Conn. (AP) — George Washington Colonials and our very own Jonquel Jones was picked sixth by the Los Angeles Sparks in last night's WNBA Draft.

JONQUEL Jones, the Bahamian who has won multiple awards while at George Washington University, will play professional basketball for the Connecticut Sun next season after being picked in the Women's NBA draft on Thursday night.

GEORGE Washington senior forward Jonquel Jones was selected as one of 52 All-Region nominees for the 2016 WBCA Division I Coaches' All-America Team, the Women's Basketball Coaches Association (WBCA) announced yesterday.

GEORGE Washington Colonials women's basketball senior Jonquel Jones was named to the All-Eastern College Athletic Conference (ECAC) Second Team, the organisation announced yesterday.

WHILE the men's tournament will grab the headlines first as their tournament gets underway, the Bahamas will be well represented by a trio of females in the main event of the NCAA.

GEORGE Washington senior Jonquel Jones has been chosen as one of 10 women's basketball finalists for the prestigious Senior CLASS Award.

AFTER a stellar junior campaign, expectations loom high for Bahamian basketball player Jonquel Jones, and she spent the offseason with world famous company as she rises on 2016 WNBA draft boards.