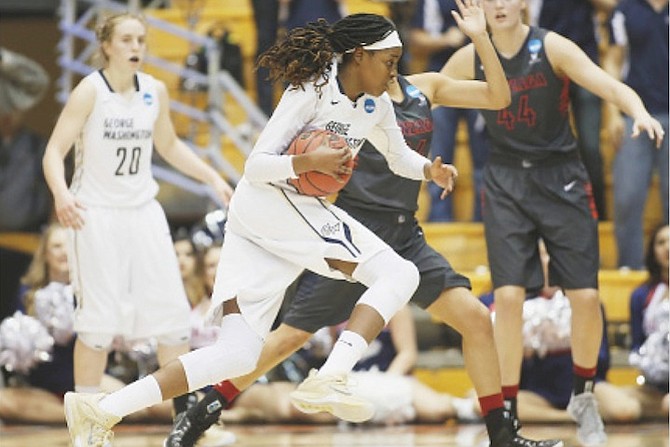 GEORGE Washington senior Jonquel Jones has been chosen as one of 10 women's basketball finalists for the prestigious Senior CLASS Award.
An acronym for Celebrating Loyalty and Achievement for Staying in School, the Senior CLASS Award focuses on the total student-athlete and encourages students to use their athletic platforms to make a positive impact as leaders in their communities.
To be eligible for the award, student-athletes must be classified as NCAA Division I seniors and made notable achievements in four areas of excellence: community, classroom, character and competition.
Nationwide voting to help select the winner will begin immediately, and fans can vote once per day until March 21 at the Senior CLASS Award website. Fan votes will be combined with those of the media and Division I head coaches to determine the winner. The Senior CLASS Award recipients will be announced during the 2016 NCAA Women's Final Four.
The 2015 Atlantic 10 Player and Defensive Player of the Year and an honourable mention All-American, Jones is a candidate for several national player of the year honours in 2016, including the Ann Meyers Drysdale Award and the Naismith Trophy.
The Freeport native, who has posted 15 double-doubles in 19 games played this season, was the nation's leading rebounder (14.8 per game) and ranked second in the Atlantic 10 in scoring (16.9 points per game) and blocked shots (3.0 per game) before suffering an injury in mid-January which has sidelined her for the last seven games.
Jones is only the third Colonial ever with 1,000 points, 800 rebounds and 100 blocked shots, and she ranks third all-time at George Washington with 906 rebounds and sixth with 159 blocks as a Colonial.
For her career, which includes eight games at Clemson as a freshman, she has compiled 1,197 points, 986 rebounds and 176 blocked shots. In addition, the 6ft 6in forward's 281 rebounds in 2015-16 rank eighth on George Washington's single-season list after she set the programme record with 375 a year ago.
In the classroom, Jones owns a 3.04 grade-point average as a criminal justice major. She was recognised on the George Washington Athletics Academic Dean's List for the Fall 2014 semester and on the A-10 Commissioner's Honour Roll for Fall 2013.
Jones is a Legacy Leader in her university's Athletics' Leadership Academy. In addition, while the women's basketball team does not pick captains, she is a member of the team's leadership council, which performs responsibilities normally handled by captains.
Finally, Jones is one of the most popular figures not just within George Washinton's Department of Athletics and Recreation but across campus, and she can be seen at most home sporting events supporting her fellow Colonials.
Along with her teammates, Jones has visited a number of local elementary schools to talk to the students about what it takes to be a Division I student-athlete. She also participated in a canned food drive and helped deliver the collection to the food bank, and she helped prepare meals at a homeless shelter.
Morever, she and her teammates hosted a youth clinic for the children in her home town during their trip to the Bahamas for the Junkanoo Jam last fall.
Jones is the first Colonial to be named a finalist for the Senior CLASS Award since Sarah-Jo Lawrence in 2008.
The 10 finalists were selected by national media from a list of 30 candidates, which was announced in January.