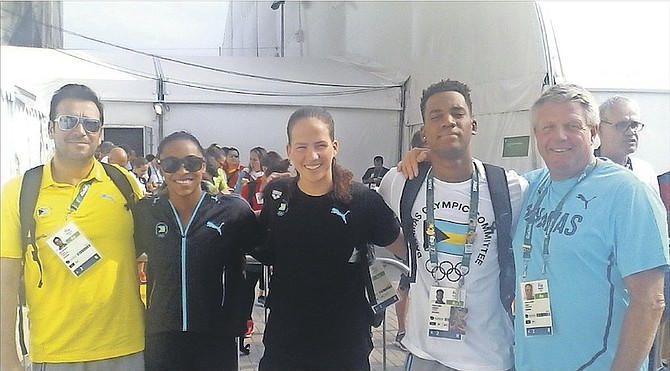 Bahamas swim team (l-r) of coach Lionel Moreau, Arianna Vanderpool-Wallace, Joanna Evans, Dustin Tynes and head coach Andy Loveitt at the 2016 Olympic Games in Rio de Janeiro, Brazil.
Stories this photo appears in:

RIO de Janeiro, Brazil: Having won a medal in all of the major international events except the Olympic Games, Arianna Vanderpool-Wallace finished just two spots shy of qualifying for the semifinal of the women´s 100 metre freestyle on Wednesday. But she admitted that she has her sights set on her specialty – the 50m free – on Friday.

RIO de Janeiro, Brazil — Dustin Tynes admitted that his Olympic debut in the men's 100 metre breaststroke was not what he anticipated.