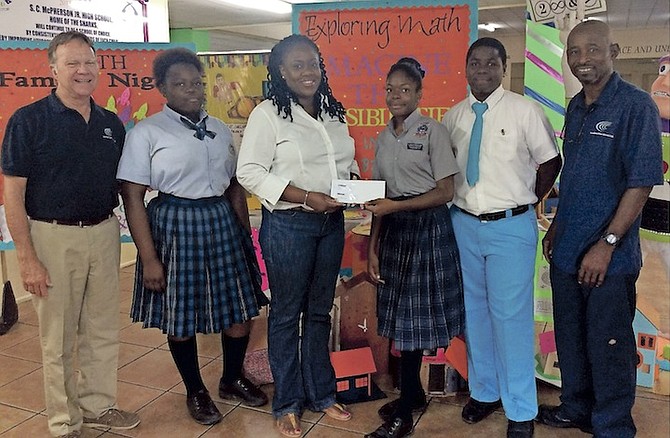 Junior high school students throughout The Bahamas got a chance to participate in the Sixth Annual Mathematics Competition hosted by SC McPherson Junior High School last month. Consolidated Water Co Ltd. (CWCO) made a donation to the school to assist in purchasing prizes, certificates and trophies for winners and participants. L-R: CWCO General Manager Bryan Russell, TA Thompson Junior High School student Skye Cooper, CWCO Administrative Assistant Welliya Cargill, SC McPherson student Krizia Smith, South Andros High School student Tristan Smith and CWCO Operations Supervisor Jeffrey Burrows.
Photo: Samone Davis/Serena Williams P.R.
Stories this photo appears in:

JUNIOR high school students throughout Nassau and the Family Islands were recently given the opportunity to compete in the annual Mathematics Competition hosted by S C McPherson Junior High School, which was created to ensure that students are properly prepared for the Bahamas Junior Certificate math examination.