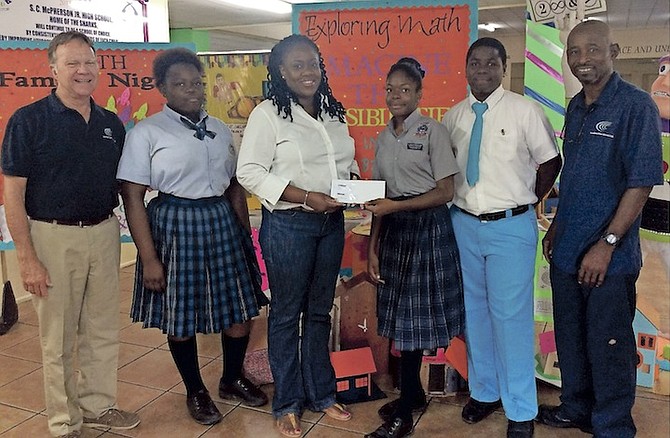 JUNIOR high school students throughout Nassau and the Family Islands were recently given the opportunity to compete in the annual Mathematics Competition hosted by S C McPherson Junior High School, which was created to ensure that students are properly prepared for the Bahamas Junior Certificate math examination.
Math co-ordinator at S C McPherson, Kiffany Daxon, said that since creating the competition six years ago she has seen a vast improvement in BJC results for students who sat the math exam.
"Every year, there are activities, programmes and competitions for students studying other subjects such as English language or the sciences but nothing to help in math, so I thought students across the country needed a learning competition specifically for that subject.
"It was my vision and I brought it to life and now we are in our sixth year and we have seen a tremendous improvement in results on the math BJC exams - so that says a lot about this competition," Ms Daxon said.
Consolidated Water Co Ltd (CWCO) made a donation to the school to assist with the demands of the competition. Thirty-six students from eight junior high schools from grades seven through nine participated in the competition. Students competed in the first round, which was a multiple-choice online test earlier that week. The top four students from each school were then selected to go to the second round, a one-day competition at the S C McPherson Junior High School auditorium.

T A Thompson Junior High School, Anatol Rodgers High School, L W Young Junior High School, A F Adderley Junior High School, H O Nash Secondary School, S C McPherson Junior High School, Kingsway Academy and South Andros Secondary School all participated.
South Andros High School emerged as the winner, followed by S C McPherson and T A Thompson in second and third place.



Tristan Smith, a ninth grade South Andros High School student, said he was excited that his school won the competition and also happy that he got a chance to learn a lot more in the process. "Although I'm already good in math, this competition gave me an opportunity to learn a lot more about other aspects of sitting for my math BJC exam this year. I expect to pass my exam with the best grade," he said.
Krizia Smith, a ninth grade student of S C McPherson, said the math competition has made her confident she will get an 'A' in her math BJC exam.
CWCO administrative assistant Welliya Cargill said the company made the donation because they support the idea that math is a vital component in a child's education.
"We always find it honourable when there is something being done in our communities to motivate our youngsters whether its sports or education. We recognise how important it is for student to learn the necessary mathematical skills and to be given the best chance to shine in their national examinations and we fully support it," Mrs Cargill said.