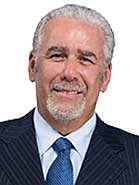 Brian Moree QC
Stories this photo appears in:
Brian Moree, QC, will take over as The Bahamas new Chief Justice on June 1. The Tribune understands. Mr Moree, pictured, will assume the post over nine months after Chief Justice Stephen Isaacs died in office.

BRIAN Moree, a senior partner of McKinney, Bancroft & Hughes, is widely expected to become the next Chief Justice of the Bahamas.

A top QC would be "very surprised" if the premature end to foreign investors' preferential tax breaks is not challenged in the Bahamian courts within the next three years.
The Bahamas must "find the sweet spot" between meeting regulatory and market demands if its financial services industry is to survive and remain a key growth driver, a top QC has warned.

The Bahamas must do much more than just pass laws if it is to realise a 20-year ambition to become "this hemisphere's arbitration centre", a well-known QC has warned.