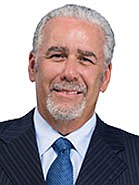 By NEIL HARTNELL
Tribune Business Editor
nhartnell@tribunemedia.net
The Bahamas must do much more than just pass laws if it is to realise a 20-year ambition to become "this hemisphere's arbitration centre", a well-known QC has warned.
Brian Moree QC, senior partner at McKinney, Bancroft & Hughes, told Tribune Business that "a holistic approach" requiring technical, administrative and marketing skills was essential if this nation is to turn an improved legislative platform into a much-needed new business opportunity.
While praising the Government for recently bringing two arbitration-related bills to Parliament, Mr Moree said much now depended on its "sustained commitment" to treating the issue as a "high priority" and allocating the necessary resources to finally establish such facilities in The Bahamas.
The Government tabled the Arbitration (Amendment) Bill 2018 and International Commercial Arbitration Bill 2018 just 24 hours after Mr Moree himself, addressing a Chartered Institute of Arbitrators luncheon, urged The Bahamas to end "20 years of talk" on whether it can realise its potential as a commercial dispute resolution centre.
Speaking to this newspaper following the Minnis administration's move, Mr Moree suggested The Bahamas seek out partnerships with existing arbitration centres such as the Permanent Court of Arbitration in the Hague as a way to obtain essential expertise and resources.
Citing numerous "synergies" with The Bahamas' existing financial services and maritime industries, he argued that an arbitration centre would also have "a very positive domestic impact" by reducing the amount of litigation currently over-burdening the court system.
Mr Moree, though, warned that success would require hard choices such as an immigration policy that minimised "bureaucracy and red tape" for foreign arbitrators, technical experts and witnesses coming into The Bahamas to conduct proceedings.
A supporting IT platform, together with case and document management systems, is also essential if The Bahamas is to "deliver" the swift and just dispute resolution services its arbitration centre must promise to international clients.
"I regard it as a positive and constructive step, and hopefully it does signal the commitment of The Government to now move in a substantive way towards establishing an arbitration centre in The Bahamas," Mr Moree told Tribune Business of the two Bills' tabling.
"It does seem to me that it's going to take a sustained commitment to actually launch this arbitration centre, and it's going to involve an allocation of resources in order to support it, both in the technical sense and in the administrative sense.
"I'm convinced that, given the level of commitment, we are capable of doing this. It's now just a question of the political directorate making it a high priority and resourcing it in an appropriate way to get this project off the ground."
International arbitration, and Alternative Dispute Resolution (ADR), have become increasingly popular as methods for resolving commercial disputes.
They are perceived as avoiding the lengthy delays and costs associated with court litigation, and also provide the parties with greater confidentiality. ADR/arbitration clauses are often being inserted into contracts, especially by companies conducting multinational or cross-border business, as well as the financial services industry's private client.
The Bahamas has harboured ambitions to become a recognised international arbitration centre for more than a decade but, while numerous building blocks to achieve this goal - including an experienced and large legal services industry - seem to be in place, progress to achieving the overall objective has been slow.
Mr Moree, while praising the Government for tabling upgraded arbitration legislation, said this was "one of the easier steps" for The Bahamas to take.
"The introduction of the two Bills is a significant enhancement of our legislative platform, and I would regard it as an important pre-requisite to formally launching an arbitration centre in The Bahamas to service the region and possibly this hemisphere," he added.
"I applaud the Government, and specifically the Minister of Financial Services, for getting to this point and dealing with the legislative platform, but I would say that while that has taken a lot of work and effort, it is in a sense one of the easier steps that has to be taken to establish and launch an arbitration centre, and promote its utilisation by the international community.
"It's going to require a significant consultation with the international community to try and establish partnership agreements with other major arbitration centres. I would hope the Government would look at the viability of entering into some sort of formal affiliation with the Permanent Court of Arbitration in the Hague, who I think could provide us with a great deal of technical assistance."
Mr Moree said launching a Bahamian commercial arbitration centre, even "in a modest way", did not need to take a long time, but much depended on "the political will and the level of priority that the Government gives this project".
"It will certainly take several years for it to develop into a major centre that is being utilised by major institutions," he told Tribune Business, "but it doesn't need to take that long to launch in the first place and start the journey.
"I think the objective to move forward, establish and launch the arbitration centre is very synergistic with our financial services industry. There are many benefits that cross over to the arbitration centre, which we already have in respect of the financial services industry, and it would introduce an alternative product into the overall development of The Bahamas as a major business hub for the hemisphere."
Mr Moree continued: "There's a lot of synergies we can get from bolting on to the financial services industry an arbitration/ADR component. Private clients very often include in documents arbitration clauses for trust structures.
"The other major synergy is our maritime industry. We have a significant footprint in that industry, which offers real opportunities to establish The Bahamas arbitration centre as a way in which disputes are resolved.
"It will also have a very positive domestic impact if it can be established and provide a formal structure for an ADR mechanism to try and resolve some of the high volume of litigation in the courts."
The McKinney, Bancroft & Hughes senior partner likened domestic and international arbitration to "two parallel paths that need to be developed concurrently", and this is what the Government's upgrades are intended to do.
The Arbitration (Amendment) Bill 2018 is intended to replace the Arbitration Act 2009, making it The Bahamas Domestic Arbitration Act and focusing it on resolving disputes that originate in this nation.
It is accompanied by the International Commercial Arbitration Bill 2018, which addresses Bahamian and external calls for dispute resolution legislation to incorporate the United Nations (UN) model law on international trade, UNCITRAL.
However, the Government's move to table two Bills - and in effect create separate regimes for domestic and international support - have not met with universal support either in The Bahamas or internationally.
Professor Sandra Rajoo, director of the Kuala Lumpur Regional Centre for Arbitration (KLRCA), told Tribune Business earlier this year: "It's better to have one Act and one arbitral regime for both international and domestic arbitration. If not you can have confusion and resources will be dissipated."
She was backed by former Bar Association president, Dr Peter Maynard, who added: "Right now there is a Bill here which will introduce the UNICTRAL model law, but will create a centre for international arbitration, and the old Act will still be in existence for domestic arbitration. There should be no separation between the two. There should be one centre and one Act, and that's what I have been advocating.
"What's been said so far is the Bahamas is going to have an international commercial arbitration Act under the jurisdiction of the Minister of Investments, and domestic arbitration under the jurisdiction of the Attorney General. That is really a waste of resources."
Mr Moree, meanwhile, detailed the multiple actions and reforms necessary if The Bahamas is ever to realise its arbitration centre plans. "There's a marketing component to this," he told Tribune Business. "We have to get out there and convince the major players that The Bahamas is open for business.
"And, most importantly, that we can administer and operate the arbitration centre in a way that complies with best practices in the industry.... This is where we need a comprehensive Immigration policy, where people come in for these international disputes with a minimum of red tape and bureaucracy to resolve these matters.
"We need a holistic approach, pull the pieces together, get it on the road and sell it, and live up to our billing because the industry will ultimately judge us on performance," Mr Moree, describing IT platforms, document and case management and administrative support staff as essential elements in running an arbitration centre.
"WE