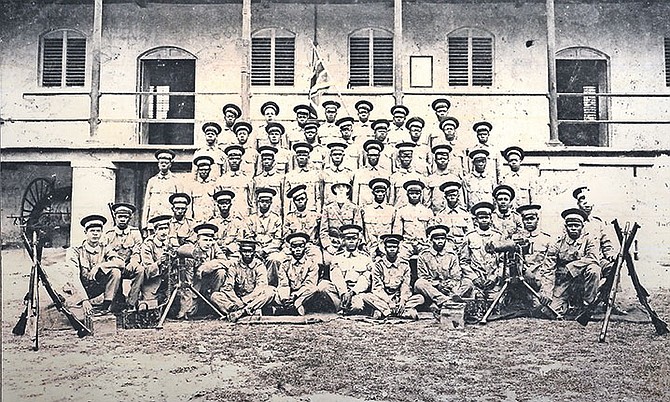 THE Second Draft for the Bahamas Unit.
Pictured from left, first row: F Russell, A Taylor, RA Brice, AW Hall, T Roxborough, H Higgins, Sgt Harrison, R Seymour, F Larrimore, H Longley, R Morrison, C Ferguson. LJ Johnson.
Second row: N Major, J Taylor, WN Hall, L Saunders, WG Saunders, D Penn, F Knowles.
Third row: G Berry, SU Rolle, A Wells, JA Evans, A Williams, C Morris, L Barr, E Higgs, A Gay, WT Saunders, Theo Roker.
Fourth row: N Robinson, F Sair, HC Sweeting, R Saunders, JW Moultrie, T Lightbourne, JH Johnson, G Dames, T Roker.
Fifth row: H Morris, R Sweeting, WL Roberts. CH Tinker, T Smith, G Marshall, J Munro.
Stories this photo appears in:

On November 11 this year, heads will bow around the globe to mark the centenary of the end of World War One.