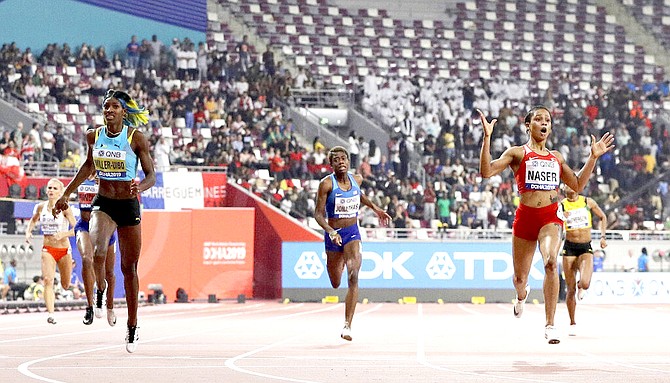 Salwa Eid Naser, of Bahrain, right, wins the gold medal in the women's 400 metre final ahead of Shaunae Miller-Uibo at the World Athletics Championships in Doha, Qatar. (AP Photo/Petr David Josek)
Stories this photo appears in:

Shaunae Miller-Uibo may have been the athlete most impacted by Salwa Eid Naser's doping rule violation and the Bahamian athletics icon spoke publicly to express her views on the controversial decision.

DOHA, Qatar — One thing is for certain, the fans inside the Khalifa International Stadium got their money's worth as Salwa Eid Naser of Bahrain and Bahamian Shaunae Miller-Uibo put on a classic showdown in the women's 400 metres last night.