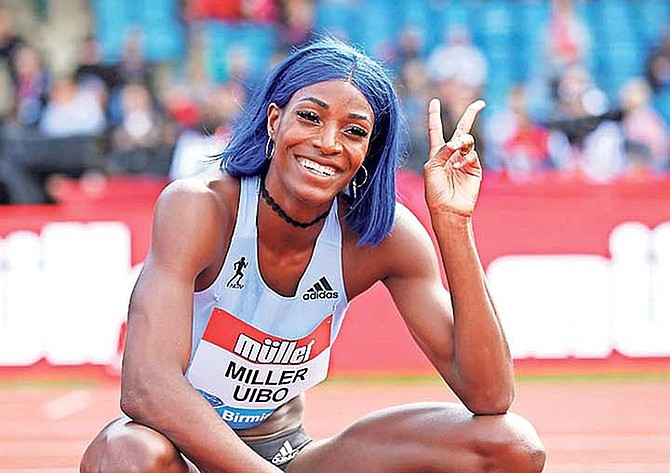 Shaunae Miller-Uibo
Stories this photo appears in:

WITH another sterling 400-metre gold medal performance at the COVID-19 delayed 2020 Tokyo Olympic Games a year later, Shaunae Miller-Uibo was in vintage form as she got her name stamped on another Tribune Sports' Female Athlete of the Year.

GRAND Bahamian quarter-miler Brianne Bethel is hoping that she can help the Bahamas get a women's 4 x 400 metre relay team on the global stage again.

AS a precautionary measure after a sub-par performance in the preliminaries, Bahamian Olympic 400 metre champion Shaunae Miller-Uibo opted not to compete in the women's 100m final at the Star Athletic Sprint Showcase.

Bahamian Olympic champion Shaunae Miller-Uibo was among a list of 24 athletes named to the newly created board called The Athletics Association (TAA) that was formed to safeguard the global interest of track and field athletes.

Shaunae Miller-Uibo and American Allyson Felix will add another chapter to their rivalry today when they face off in a new initiative for World Athletics - the 'Weltklasse Zurich Inspiration Games.

IN her first meet since settling for the silver in the women's 400 metres at the IAAF World Championships last October, Shaunae Miller-Uibo was back on the track with a double dose of world-leading performances in the 200 and 400 metres.

As World Athletics seeks to return to a state of normalcy, an innovative new approach will feature some of the biggest names in the sport competing remotely, including Shaunae Miller-Uibo.