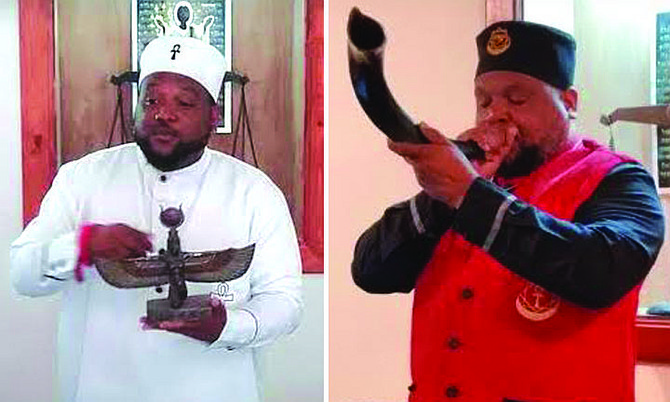 LEFT: Anku Sa Ra holds the statue of Mother Mir-i-am (African Mary) while reading from Revelations 12:14 (KJV).
RIGHT: Anku blows the Qubtic Ram's Horn called Shu-Faru.
Stories this photo appears in:

RELIGION in The Bahamas has been dominated by Christian denominations; in fact, about 90 percent of the population ascribes to some form of Christianity. About 30 percent are Baptist, 23 percent are Pentecostal, 14 percent Catholic, 10 percent Anglican, five percent Seventh-Day Adventist, and four percent Methodist. The remainder includes various Christian and non-Christian religions like Greek Orthodox, Rastafari, Baha'i, Jehovah Witness, Muslim, Obeah and Hinduism.