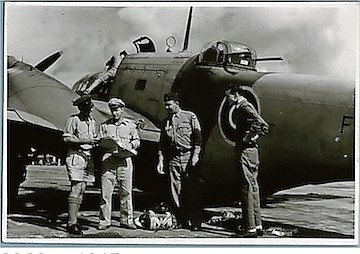 Hand-over of a Baltimore from USAAF to RAF in Nassau, c.30 March, 1945.
Stories this photo appears in:

WHETHER planes touched wingtips, men walked into propellers, bombers collided, planes were lost in microbursts, or had training gunnery mishaps, Nassau, Windsor and Oakes air fields and adjacent waters claimed many lives. More than half of all accidents in the colony – 80 of 150 – took place at or near the air fields and New Providence. This article deals with the 55 accidents that happened or ended up on land. In the three years from January 1943 131 aviators and a Bahamian family of three were killed by military aircraft in New Providence and its waters, with 83 rescued, and those fatalities recovered buried on Farrington Road. Pre-existing Oakes Field, used for training, saw nine crashes and most of the 25 unallocated, and Windsor Field, still in use, had 21.