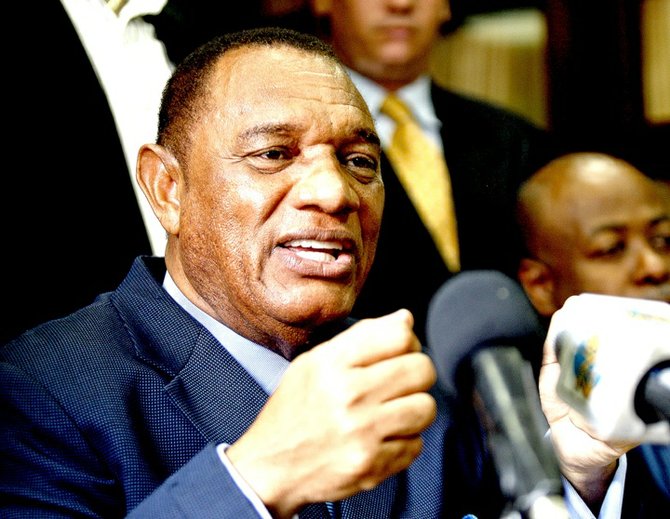 By SANCHESKA BROWN
Tribune Staff Reporter
sbrown@tribunemedia.net
PLP LEADER Perry Christie said if media reports regarding the resignation of two FNM MP's are true, he expects there to be an early election.
Speaking with The Tribune, Mr Christie said if the reported tension in the governing party is factual, he predicts Prime Minister Hubert Ingraham will call elections before February.
"The Prime Minister has always been the type that does not like when people are not conforming to his wishes. If the reported trouble within the FNM party is true, he will most likely opt for early elections," he said.
"Those of us who are true political observers, who are not a part of the FNM, have taken note of the trouble and the friction in the party. The Prime Minister does not like to be embarrassed, if those people resigned it means the government will have a reduced majority in the House and that would put him in a position to call elections sooner."
Mr Christie's comments came after speculation that Clifton Member of Parliament Kendal Wright and Eight Mile Rock MP Verna Grant intend to resign from the Free National Movement today.
According to numerous sources within the party and those close to the respective MPs, Mr Wright and Mrs Grant intend to make their announcement when the House of Assembly meets at 10am.
Mr Christie said regardless of whether Mrs Grant and Mr Wright resign, the PLP is ready for whatever elections are called.
"We have no evidence that those members resigned. As far as the PLP is concerned, Mr Wright and Mrs Grant are still standing members of the FNM. I have no interest in speculating whether or not they have resigned. The FNM's problems are the FNM's problems but I do know this whenever elections are called, we will be ready," he said.
"The PLP is unified. We are cohesive. We have already developed a team. We are untied and ready to become the next government of the Bahamas. I can say it with confidence the PLP will once again return to power and we can thank the Prime Minster and his governments horrendous negligence for that."
Mr Chrsite said while he has not been in talks with either Mr Wright or Mrs Grant regarding their possible resignation from the FNM, the PLP is an open tent and will welcome them if they so choose.