By BRENT STUBBS
Senior Sports Reporter
bstubbs@tribunemedia.net
INSTEAD of going to Grand Bahama, Chris 'Fireman' Brown has decided to holf off his initial Invitational Track and Field Classic and is now expected to stage it at the new Thomas A Robinson Stadium next year.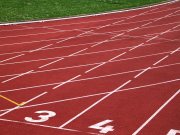 Eleuthera native Brown had decided to stage the invitational, featuring some 70-plus world-class athletes, at the new stadium on April 14.
But because the stadium was not officially certified by the International Amateur Athletic Federation (IAAF), Brown was prepared to take it to the Grand Bahama Sports Complex.
However, when looking at the budget which would have exceeded the original cost of $300,000, Brown decided that it wasn't worth going to Grand Bahama anymore.
"With this being the Olympic year and because of the cost involved in making it to Grand Bahama, I decided to call it off this year until next year April," said Brown during Saturday's cocktail reception. (see story on page 2E)
Brown, fresh off his bronze medal performance behind Pinder's silver at the IAAF World Indoor Championships in Istanbul, Turkey, said it was a difficult decision because he had a lot of athletes who confirmed they would compete.
"It felt like so much hard work has been put into it, but basically I want to show off the new stadium to the world right before the Olympics," he said.
"But hopefully every disappointment happens for a reason, so I'm looking forward to it being held next year and also I will get the full assistance from corporate Bahamas and the Bahamas Government. So I'm looking forward to getting everybody here and participating next year."
With the stadium expected to be fully ready for use by the summer, Brown said it shouldn't be a problem when he re-applies for the sanction with the Bahamas Association of Athletic Associations and the Ministry of Youth, Sports and Culture.
"I went to the World Indoor Championships and I picked up a few more athletes," Brown said.
"At least 10 more athletes consented to join those who had already decided to come. They are all on board to come next year because even though it isn't going to be held this year, that is not going to stop them from coming next year. The only problem is that after this year's Olympic Games, a few of the athletes will be retiring and I really wanted them to come here because they are my friends," he added.
With the event pushed back to next year, Brown said he has more time to plan and ensure that the invitational will be bigger and better than the one originally expected this year.
Although there was an estimated budget of $300,000, Brown said the athletes were basically coming to pay tribute to his longevity at the top of the sport as one of the world's premier quarter-milers rather than seeking the exorbitant fees that they would require if it was a privately-run meet.
"So the funds basically was to cover their airfare, hotel and ground transportation and give them a little something that they could walk away in their pocket," Brown said.
An event like this would normally cost between $500,000 and a million dollars but a lot of the athletes were just showing their gratitude to Brown. "I look forward to hosting it next year," Brown said.