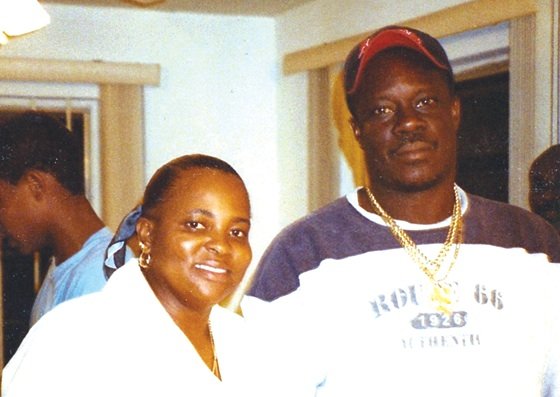 By BRENT STUBBS
Senior Sports Reporter
bstubbs@tribunemedia.net
Softball players, coaches, executives and fans packed St Francis Xavier Catholic Cathedral to pay their last respects to the late Kent Forbes.
Forbes, 51, collapsed on the field in the Archdeacon William Thompson Park at Southern Recreation Grounds while playing in a Masters Softball League game for Dozer Heavy Equipment on March 24. He was taken to the Princess Margaret Hospital where he was pronounced dead.
In his homily, Father Glen C Nixon said the large crowd of persons were there simply to show their appreciation to the man they affectionately knew as "Drinks."
As someone who loved life, Father Nixon said he only wished that he had gotten to know Forbes on a more personal basis.
Father Nixon said he knew that Forbes had developed a faith in God and he's now going home to be with his creator Jesus Christ.
"For those of us who knew Kent very well, what pain it must be for you to come to this moment," Father Nixon said. "But I am here to let you know that Jesus Christ has promised us life after death and if you believe in him, you will see Kent Forbes again."
Taking the congregation through a series of Biblical characters whose lives had a meaningful existence for us even today, people such as Moses, Noah, Judas and Peter, Father Nixon said Forbes' life has left a lasting impact on those whom he loved and cared for.
Father Nixon said if more people "can take a page" out of Forbes' life, whether he was playing a softball game or spending time with his family and friends, the Bahamas could be a better place to live in.
People, according to Father Nixon, will be forming new friendships and spending more time sharing with one another. "He wasn't just a player and friend but he was a Catholic and we Catholics believe in life in a complete way," Father Nixon said. "We believe that Kent was a child of God, a recipient of life."
Father Nixon said Forbes developed an ability to play, to laugh, to have fun and he advised the audience that if they become a Christian, they should note that it means that they too can have laugh and dance and enjoy life to the fullest.
"The sign of a healthy Christian is one with a sense of humour," he said.
Forbes' friends and team-mates said he was one who took the time out to keep them together and, at the same time, he still took care of his family.
Members of the Dozer Heavy Equipment team served as the pallbearers as they took his body out of the church. A processional took him into Woodlawn Gardens where his final remains were interred.
Forbes was buried in his Dozer Heavy Equipment uniform. He had his bat, glove and a ball placed inside his coffin, which also had a photo of him in his uniform.