By LAMECH JOHNSON
Tribune Staff Reporter
ljohnson@tribunemedia.net
AN ATTORNEY who refused to submit to new measures at the Magistrates' Court complex requiring body searches for contraband is considering legal action after claiming a senior police officer assaulted him.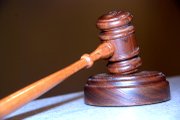 However, Supt Oscar Sands dismissed the claim by former assistant superintendent of police Calvin Seymour yesterday, saying he did nothing wrong and was only being professional.
"If he feels like I assaulted him and wants to take it to court, then that's his right. I try to be professional in my duties and my conduct so I don't know about that."
Sands said he is going to "continue to make people coming to the court feel safe" by carrying out his duties to the fullest as the officer responsible for the new facility.
He said: "If someone gets hurt coming into this building because we the police didn't do our jobs properly, then that will be on us."
The alleged assault reportedly took place on Tuesday morning in Court 9 of the new complex.
According to attorney Michael Kemp, one of many reported eye-witnesses, Mr Seymour was followed into the courtroom by Supt Sands and thrown against the wall.
Mr Kemp said: "He started something about 'Nobody is above the law.' And Seymour was like 'Sands leave me alone please'."
Mr Kemp said the former ASP managed to escape Sands' grasp and take a seat at the bench table reserves for attorneys.
Sands reportedly pursued and started patting down Seymour, telling him that he was under arrest and suspected of having contraband, all while not giving a reason for the arrest.
"I was horrified to see a lawyer treated like that," the attorney admitted.
While he praised Supt Sands' passion and desire to do his job, he feels such passion could be put to better use on the streets and not in an environment that requires interaction with people.
The alleged incident reportedly stemmed from Seymour's opposition to being searched by his former underling following the introduction of the new security measure less than 10 days ago.
Attorneys Devard Francis, Jiaram Mangra, Michael Kemp and others voiced their displeasure of the measure, calling it "demeaning".
In response, Supt Sands said the new security measures are for the safety of all persons entering the complex.
"Everyone who comes into this court, even policemen, they are checked. People are searched at other institutions as well. At the prison, the lawyers are searched. Even the Superintendent of the prison is searched before he is allowed to enter the building.
"It is for the safety of the prisoners and the staff that work there. If the police slack off here and someone gets hurt, who will they jump on?"
"I'm going to continue to do what is right and carry out my duties to ensure the safety of those entering this building," Supt Sands said.