By LAMECH JOHNSON
Tribune Staff Reporter
ljohnson@tribunemedia.net
A SUPREME Court jury convicted 36-year-old Prince McPhee of manslaughter yesterday after unanimously deciding he did not murder the country's 47th homicide victim in 2010.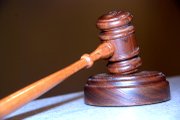 However, the family of the convicted man did not take it well.
Leaving the court room, his mother was in tears while his girlfriend fell to the floor and begged on her knees that the father of her children not be taken away.
After Justice Bernard Turner summarised the evidence by 1:30pm the jury retired, returning shortly after 3pm with the 8-4 manslaughter verdict.
They had considered the option of manslaughter after announcing finding him not guilty of killing Bradley Ferguson.
On June 26, 2010, Ferguson was shot following an argument with a man claimed by Claudine Symonette to be McPhee.
Other witnesses said the argument started when McPhee accused Ferguson of putting his hands on Pearl Johnson, the victim's niece.
The court heard that, following an encounter with Ferguson, Johnson called McPhee, her boyfriend, told him what happened between herself and her uncle and asked to be picked up.
It was claimed McPhee went to find Ferguson, which resulted in a confrontation. Ferguson was shot multiple times, but McPhee testified he was not the killer. The incident took place in Sequoia Street, Pinewood Gardens.
His sentencing was adjourned to May 30.