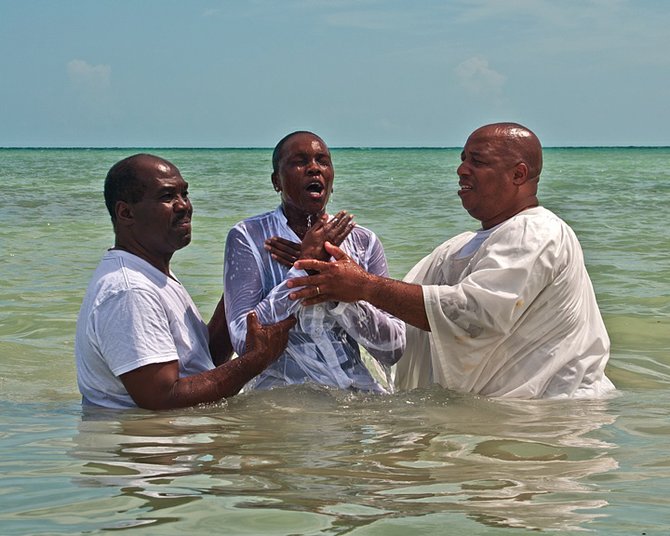 By ALESHA CADET
Tribune Features Reporter
WITH over 100 candidates already signed up for the 2012 Easter Water Baptism, members of the Bahamas Harvest Church expressed their excitement by saying "God is awesome".
Never before has the church had this many persons desiring to "draw a watery line", separating their old life of sin and their new life in Christ Jesus, members said.
Gathering at Yamacraw Beach this Sunday at 1pm, all registered persons and candidates with have the opportunity to participate in the "life changing experience".
Bahamas Harvest Church Assimilation Director and Easter Water Baptism Coordinator, Bjourn Burrows told Tribune Religion the baptism event has been apart of the church since its inception.
When speaking about the meaning of baptism, Mr Burrows said according to biblical teachings, baptism is basically an outward testimony, a declaration of one's faith in Christ. He said once a person begins as a new convert, it is customary that they be baptised.
"Baptism symbolises one putting to death their old way of life and being resurrected in the newness of life that Christ brings. The reason why we do it and put emphasis on it around Easter time is obviously because of the passion of Christ. Him dying to save human kind and being resurrected," said Mr Burrows.
He said, it is the resurrection that gives people new life and so baptism for the believer, is symbolic of that. "Putting to death sin in their life and coming to a newness in being resurrected with Christ," he said.
"It is like celebrating a birthday because your baptism day would signify your rebirth in Christ. The change it can bring about is one really taking hold of their Christian faith, because now it is a public declaration to yourself."
Participants do not have to be members of the Bahamas Harvest Church to be baptised on Sunday.
"You would need to be saved and you would need to have said that you accepted Jesus Christ as your lord and savior. You would have to confess that to someone, for example, one of the elders here at the church. Anybody who feel as if they are burdened and they want to give their life to Jesus, we would be more than happy to instruct them in the way that they should do it and also facilitate their baptism," said Mr Burrows.
There are different types of baptisms according to one's doctrine and the teachings of one's church. Mr Burrows said, the ceremony would follow the biblical way of baptism by immersion.
"That will be where they put you under the water in the name of the Father, Son and The Holy Spirit," he said.
All candidates currently registered for the Easter Water Baptism are asked to come out to a Pre-Water Baptism Class at the Harvest tonight at 7pm.
The Bahamas Harvest members are encouraging believers who have recently come to faith or perhaps have made a recommitment to Jesus Christ, to register for Water Baptism by contacting the church.
Weekend Schedule
Good Friday Worship Experience 9am

The Weekend Worship Experience
Saturday at 6pm and Sunday at 7am, 9am and 11am
The church launches its new message series this week entitled "Supernatural... The Unseen Influence In My Life."
Water Baptism, Sunday at 1pm