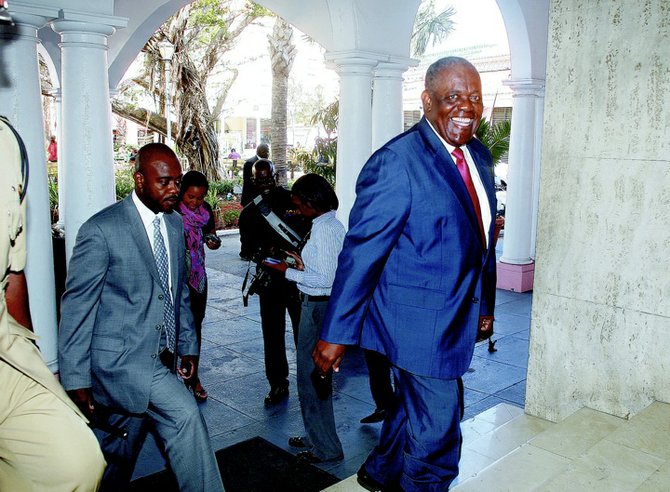 By KHRISNA VIRGIL
Tribune Staff Reporter
THIS year's General Election will be on May 7, Tribune242 can reveal.
Parliament has been dissolved and party insiders told Tribune242 the date the country will go to the polls, with May 7 expected to be officially confirmed by the Prime Minister later today.
Prime Minister Hubert Ingraham did not reveal the date at 1pm as was expected, instead issuing a one line statement: "I have advised His Excellency the Governor General to dissolve Parliament."
The date wasn't announced either when the Provost Marshal officially declared Parliament prorogued - which he did at 1.45pm today in Rawson Square.
Mr Ingraham may keep the date under wraps until he addresses the nation tonight.
However, according to several FNM campaign officials, an official email circulating within the party confirms that Election Day will be May 7, a Monday.
Today's move comes after the PM told crowds yesterday, "I will make a public announcement and an address to the nation at 1pm [Tuesday]."
"If you have not registered to vote yet, it might be too late. If you are registered to vote, make sure you check your card. Make sure it is correct and accurate."
The PM's comments came while he addressed FNM supporters at the party's "Red Splash Extravaganza" in Treasure Cay, Abaco. He repeated it to crowds in New Providence and Grand Bahama.
Anticipation was heightened last week when the FNM suspended the House of Assembly until May 22 – the day before Parliament would automatically dissolve according to the law.
This meant that Mr Ingraham could set a date as late as August, because according to the constitution, an election must be held within 90 days of the dissolution of Parliament.
However he announced shortly after that he would dissolve Parliament before May 2.
Political pundits expect that Mr Ingraham will announce today that the election will be held in early May, giving political parties roughly a month to campaign.
Elections are always hotly contested, but commentators say this one stands out for a number of reasons including the fall-out from the ongoing recession and controversy over the handling of the New Providence road works.
That controversy, according to Mr Ingraham, will not affect FNM support
He said: "Voters are very happy. The roads are opened. [On] Prince Charles Drive you can drive from one end to the other; now on Market Street from Duke Street to Robinson Road; Baillou Hill South, down as far as Soldier Road and between now and the end of the month you will be able to go straight down to Carmichael Road."
The 2012 election will be the first in which international observers will monitor the polls, and the first in many years in which a third party is expected to make a tangible impact.
Democratic National Alliance (DNA) officials have chimed in with their concerns on Mr Ingraham's decision to announce an election date "so late in the game".
Mark Humes, chairman of the party, said the Prime Minister had held the country "hostage".
"Everybody is ready for him to announce the date, it's just sad that we at this stage in our maturity, as a nation, still don't have fixed dates for elections. Here we are, five years held hostage by one man."
It is the DNA's hope, Mr Humes said, that his party gets to make a change so that everybody knows the date, not just one man, as Mr Ingraham has done "the past five months".
Mr Ingraham said the DNA's view went against the Bahamas' system of government.
"Elections are held once every five years and will not go one day beyond that. People who wish to have a system where you cannot call an election earlier than five years have views that are inconsistent with our system of government," said Mr Ingraham.
Senior Progressive Liberal Party officials could not be reached for comment.