By BRENT STUBBS
Senior Sports Reporter
bstubbs@tribunemedia.net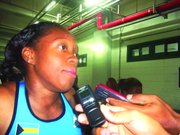 Sheniqua 'Q' Ferguson has gotten off to a fast start this year. Competing along with a field of Bahamians at the Auburn Invitational over the weekend, Ferguson clocked a personal best of 22.64 seconds to surge on top of the IAAF world ranking.
Her time surpassed the previous leading time of 22.70 that was posted by Shaunae Miller at the Bahamas Association of Athletic Associations' National High School Track and Field Championships in New Providence on April 15.
Ferguson, competing for Puma as a graduate of Auburn University, beat out Auburn's sophomore CeCe Williams who got second in 23.66.
Bahamians V'Alonee Robinson, a sophomore at Auburn, was 11th in 24.13 while Tia Rolle, a senior at Alabama State, was 18th in 24.46.
"I felt very good. I'm happy with the opener," Ferguson said.
"It was my fastest time ever. I didn't know that it was that fast. I am very happy that I put a mark out there."
With the outdoor season still young, Ferguson said she hopes that her name can stand up on the list for a little while.
"I'm not going to be upset because there are a lot of competitors out there and with this being an Olympic year, I know that everybody will be running faster as the season progresses," she said.
Ferguson, who is preparing for the London Olympics, said all she wants to do is improve on her time every time she steps out on the track and she hopes that she can stay healthy.
Before she was done, Ferguson also showed that she's ready to compete with the Bahamian 4 x 100 metre relay team. She ran the third leg on the Auburn Elite team that won in 43.78. They beat out an Auburn team that finished second in 44.82. While Robinson ran the open leg, senior Nivea Smith anchored the team.
Robinson, by the way, also got third in the 100 in 11.63. Jamaican Kerron Stewart, competing for Nike, won the race in 11.18 and Chastity Riggen, competing unattached, was second in 11.34. Rolle finished ninth in 11.85.
Smith, on the other hand, contested the 400 as she placed 30th in the 400 in 58.37. Her coach Henry Rolle said she only did the event to continue her training process.
Another Auburn senior, Krystal Bodie, got back on track after sitting out most of last year with an injury. Bodie was 17th in the 400 hurdles in 1:03.65. She also competed in the 100 hurdles but didn't finish.
On the men's side, veteran Avard Moncur, competing for Doyle Track Club, picked up a third place in the men's 400 in 45.86. Grand Bahamian Andre Williams was sixth in 47.62 and Jamal Butler was ninth in 48.33.
Also at the meet, Jamial Rolle got third in the men's 100 in 10.38. Auburn's sophomore Keenan Brock won in 10.24 over Trinidad & Tobago's Mark Burns in 10.35.
Rolle, competing unattached, was also fourth in the 200 in 20.93 and Derrick Atkins, who is making a comeback, was ninth in 21.32.
Another athlete making a comeback was Nyles Stuart, who was second in the men's long jump with a leap of 7.30 metres or 23-feet, 11 1/2-inches.
Carl Morgan of the Cayman Islands won with 7.70m (25-3 1/4).