By NEIL HARTNELL
Tribune Business Editor
AML Foods' chairman has rejected assertions that the BISX-listed food retail group "blew it" in its attempt to acquire City Markets' remaining New Providence stores, telling Tribune Business yesterday it had "not been formally told" its offer was rejected.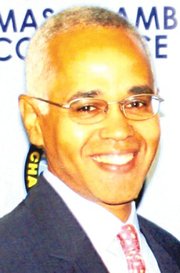 Choosing his words carefully in response to City Markets' principal, Mark Finlayson's, assertion that AML Foods failed to land the prize despite it being "there for the taking", Dionisio D'Aguilar said it was still not "absolutely crystal clear on the ground" whether the deal to sell the troubled supermarket chain to rival Super Value had been consummated.
Describing Mr Finlayson's "blew it" comment, reported in Tuesday's Tribune Business, as "unfortunate", Mr D'Aguilar said AML Foods had been "serious contenders" to acquire City Markets, and had to learn of the latter's proposed deal with Super Value owner, Rupert Roberts, via this newspaper.
Suggesting that Mr Finlayson had been seeking to maximise the sales price for the remaining City Markets locations by getting two competitors to effectively bid against each other, Mr D'Aguilar said that as a publicly-listed company, AML Foods always had to be mindful of its shareholders' interests, while Super Value could "move quicker" as a privately-owned entity.
And the AML Foods chairman also suggested that Mr Finlayson had seemingly decided to go with Mr Roberts for an unknown "underlying reason that certainly had nothing to do with money".
Reading between the lines from Mr D'Aguilar's comments, it would appear that AML Foods was always 'in the game' in the battle to acquire what remained of City Markets, specifically its store locations, and that it had left an offer on the table for the Finlayson family to consider.
"The negotiations have been ongoing, and it's unfortunate Mr Finlayson would say that comment," Mr D'Aguilar said in relation to the 'blew it' claim.
"I just want to discover what really has happened. Mr Finlayson has, at least, not definitively said he is going to hand it over to Mr Roberts. I just want to ascertain that is the case."
And he added: "Everybody knows it's a negotiating process, and I think Mr Finlayson has made a deal, if he has made a deal with Mr Roberts, for reasons other than what AML offered him. There is an underlying reason why he favoured Mr Roberts rather than AML, and it certainly had nothing to do with money.....
"I don't think we blew it. We engaged in a negotiation process, and I don't know what the outcome is, whether our offer has been accepted or rejected. We haven't been formally told. The first time I read we blew it was when I read about it in your paper."
Emphasising that he had no issue with Mr Finlayson seeking to maximise his family's returns (loss minimisation) by soliciting rival bids for the City Markets business, Mr D'Aguilar added: "In any negotiation process there's a walk away and a come back, and that's normal course for whenever you're buying something.
"That's just the normal course of business. Negotiations go on, and as a seller, to maximise your price you find two competing buyers and get them to bid.
"But I'm not sure what Mr Finlayson has decided to do. It's not clear what the final decision is, but he appears to have made up is mind some time ago. As every good seller tries to do, he's trying to maximise his return. I'm not sure what he's sold it for, but I think AML were serious contenders."
The AML Foods chairman added: "For reasons unclear to me, I'm not sure what he's decided, but all indications from Mr Finlayson's and Mr Roberts's comments are that the deal has been done for a while.
"Any negotiations he had with us, I'm sure, were probably trying to see what additional amount he could extract from people interested in buying the operation. That's normal. I have no problem with that. It's just business. To me, it's a normal negotiating process."
Contrasting the approach AML Foods had to take towards City Markets with that of Super Value, Mr D'Aguilar told Tribune Businesss: "We're a publicly listed company and have shareholders, with an AGM upcoming.
"We have to make decisions in the best interests of our shareholders. We don't want to make decisions that do not stand the test of scrutiny. Mr Roberts doesn't have the 'shareholder issue'. He can therefore make decisions quicker. We have to be measured. There are 1,300 shareholders who are looking to you to preserve their interests and maximise returns. We have to be very careful and measured."