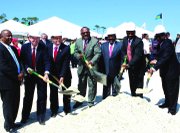 THE National Insurance Board has signed a $12 million contract with Coastline Construction to create a new community hospital in Marsh Harbour.
The signing and groundbreaking ceremony for the facility, scheduled for completion in 60 weeks, came almost 25 years after NIB built the first community clinic at Marsh Harbour in 1988.
That clinic was the start of NIB's campaign to extend health care infrastructure throughout the country.
Minister of Health Dr Hubert Minnis said the community hospital will replace the clinic as the primary health care facility for the community.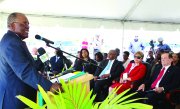 He said: "Through the Public Hospitals Authority, the facility will provide improvements and advancements in tele-medicine and tele-radiology for this area; it will allow for the rotation of specialists in New Providence to Marsh Harbour, while also allowing for the bridging and expansion of electronic medical records, numerous outpatient surgical procedures and expanded ante-natal care delivery.
"All residents of Abaco, including those who presently access private health services, will benefit from the new and expanded services this facility will provide.
Dr Minnis said the Marsh Harbour hospital and another being built in Exuma are part of Prime Minister Hubert Ingraham's vision for the development of the Family Islands.
He said Mr Ingraham, despite overseeing the affairs of the country during the "worst recession we have seen in modern times", has ensured that government services are available to all Bahamians.
"While similar public officers were losing jobs all over the world, Prime Minister Ingraham ensured that our health care professionals were secure in their employment, and available to do their job of keeping the Bahamas healthy," Dr Minnis said.
"As one who grew up on the Family Islands, he has always understood the need for essential services to be available, affordable and accessible for those who reside in the Family Islands and there can be no more essential service than health care."
Dr Minnis said the new hospital is designed "so that if any unforeseen circumstances arise and we need additional bed space, the facility will be able to accommodate those additions.
"Having bed space at the facility will also remove some of the burden off the Princess Margaret Hospital and Rand Memorial Hospital as residents will not have to travel to those facilities for certain surgical procedures. They can have it done right here at home while receiving specialist treatment as part of the Public Hospitals Authority network," Dr Minnis said.