By NATARIO McKENZIE
Tribune Business Reporter
nmckenzie@tribunemedia.net
THE Bahamas has not been a dynamic share owning society, a government minister said yesterday, urging more Bahamians to save and invest.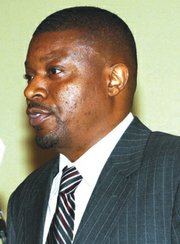 Speaking at a meeting of Rotary Club of East Nassau Sunrise, Minister of State for Finance, Zhivargo Laing, said: "Growth and development in economies happens by savers putting their monies in investments that generate jobs and new business opportunities.
"If you are a net non-saving society, then you have to rely on those who are going to bring their capital here. If that is going to change, then more and more of us are going to have to be a part of that saving and investing society. To create a share ownership society requires a mindset of share ownership."
Mr Laing added: "We have not been a very dynamic share-owning society, but it is evolving. In many ways the Government is leading the way in that regard."
He highlighted the recent $10 million Arawak Cay Port initial public offering (IPO). "If this country if is going to accelerate its own economic growth and development, it will have to have the critical mass of its own people embrace a new way of thinking about themselves," Mr Laing said.
Reiterating that the foundation of modern economic growth and wealth was savings and investments, he added that more Bahamians today are shareholders than ever before.
Mr Laing added: "When you provide for greater share ownership, you also have to provide for an environment where that ownership is better regulated. We have come so far of the way, but we have more to go.
"The new Securities Industry Act has more modern and flexible features to address issues related to disclosure, risk and protection of investments. Some of the amendments to the Investment Funds Act complement the new Securities Act.
"Pension schemes are an unregulated practice in this country, and we have had a Task Force for the last several years looking at this issue. They have recently presented draft legislation toward this end. It is my expectation that early in the next term of any forward-thinking administration, new legislation with respect to pension legislation would come into force."