By LAMECH JOHNSON
Tribune Staff Reporter
ljohnson@tribunemedia.net
THE DNA will not win any seats at all, but could be a political "game changer" according to a veteran PLP.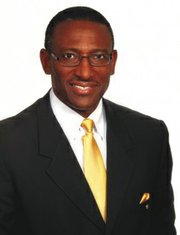 Defending two-time PLP MP for MICAL, V Alfred Gray, said his party will win more than three-quarters of the 38 constituencies up for grabs.
"I think we will win at least 31 seats. I think the FNM would have their base support which is about 30-35 per cent.
"We will get about 60 per cent of the popular vote and so we expect to form the next government."
Mr Gray said he did not intend his words as a dismissal of the DNA, but said he does not expect the third party to win a seat.
"I believe the DNA will not win any seats but they will be a game changer, meaning if in each constituency they can take 300-400 votes there, the outcome will certainly be determined by the amount of votes they pull and who they pull most of the votes from."
Confidence began building among some other 150 plus parliamentary hopefuls after the election date was announced.
Senator and FNM candidate for Yamacraw Dion Foulkes said he was "overjoyed" about his and the FNM's chances at the polls come May 7, if the "fantastic" turnout at Monday's Red Splash was any indication.
"I get excellent responses especially from young people," said the Minister of Labour.
"Whether it's in Elizabeth Estates, whether it's in Winton, Colony Village, I am receiving a warm welcome. I am very confident that we will win in Yamacraw.
"I'm even more confident", he added, "that the FNM will sweep the east and I'm confident that the FNM government, God willing, will be returned to government."
Meanwhile, DNA candidate for Mt Moriah Wayne Munroe said the new third party is still a force and could win the election.
"The DNA's chances are as good as they've always been. The majority of the Bahamian people, the polls show, don't favour the FNM or the PLP. There's only one other party for the 60 per cent of the people to choose."
He said he is confident Bahamians "will focus, grow up, think, and they'll vote DNA."
Alex Morley, who is going up against four candidates for Englerston, including fellow independent Paul Rolle, said he has been working hard to win people to his cause.
"I think my chances are good. I've just been really focused on doing the work, trying to win people to the philosophy of what I've been talking about," he said.
"The philosophy I've been pushing to the people is the philosophy of self-determination, meaning that any problems we have, we should address them as a community.
"We need to take those responsibilities on and fix those problems. I don't think that any government in the past has shown that they're willing to do anything for Englerston."