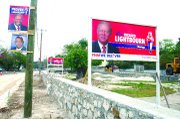 VOTERS out east are asking why the FNM seems to be the only party taking advantage of public spaces to boost their election campaign.
PLP and DNA supporters say they're tired of seeing giant billboards bearing the faces of the FNM's Montagu and St Anne's candidates looming above the small park at the intersection of Eastern Road and Blair Estates.
And if common ground is really fair game, they want to know why the official opposition and fledgling third party allowed the FNM to get the drop on them.
DNA: the healthy choice
Branville McCartney believes he is the only healthy choice for the Bahamas.
Speaking at a town meeting last night, he said that if re-elected, Prime Minister Hubert Ingraham will have been in charge of the country for 20 years by the time his next term runs out.
Mr McCartney said: "You do know, God forbid, if Mr Ingraham or Mr Christie is elected, that would mean that since majority rule we would have had only three PMs!
"That would mean that in 2017, 50 years after majority rule, we would have only had three PMs! That cannot be healthy for a developing country!
"Let's change that this election. Let's move this country forward and make this country a better place."
What's a
picture worth?
A mini-controversy has broken out over aerial photos of Monday's simultaneous FNM Red Splash and PLP Family Day gatherings.
The images, purportedly captured moments apart, are taking Facebook by storm (see page 12).
FNMs point to the clear disparity in crowd size - supporters of the governing party appear to outnumber their rivals by at least three to one - as clear evidence that a resounding election win in on the cards for Team Red.
But, angry PLPs claim, the comparison is nothing but FNM skullduggery at work yet again.
They point out that while the Red Splash was a daytime event, the Family Day didn't kick off until evening, meaning the PLP crowd was just beginning to gather when the image was captured.
Some voters are more equal than others
WHILE the Parliamentary Elections Act has been amended so certain Nassau voters can cast their ballot early, it seems Family Islanders will have no such luck this election.
Voters on Abaco who made plans to travel before the election date was revealed had a big surprise in store when they tried to register for an advance ballot.
The response, delivered in an "apologetic tone", noted that unfortunately the new law does not apply to them.
Parliamentary Commissioner Errol Bethel confirmed this yesterday, explaining that the changes to the Act only mention voters in New Providence and Grand Bahama.
"I don't know how we can set this up for the Family Islands," Mr Bethel said - but added that he's prepared to try and accommodate anyone willing to pay for a flight to Nassau and stop in at the Parliamentary Registration Office.