ASPIRING chef Dwayne Sinclair of Temple Christian High School once again emerged as the winner of the National All-Island Senior Young Chef competition.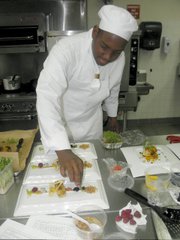 He also placed first in the preliminary stages at the New Providence senior finals.
Dwayne scored 444 points for the Best Robin Hood Flour dish, "Island Pina Colada Upside Down Cake" and 447 points for the Best Mahatma Rice dish "Island Crack Conch Cannelloni with Julienne Vegetables".
Placing second overall was Sherika Gibson of SC Bootle High School in Abaco, with 377 points for "Abaco Express" and 384 points for "Blackwood Delight".
Third place went to Deja Burrows of Queens College, with 344 points for "Deja's Creamy Mango Rice Pudding with Tropical Fruit Salsa" and 384 points for her "Island Conch and Crawfish Tart with a Mango-Curry Sauce".
Stevette Murphy of North Long Island High placed fourth with 373 points for "Poached Curry Grouper and Rice with Tangy Carrot and Onion Rings" and 353 points for "Steamed Bassava Delight and Pineapple Guava Sauce".
In addition to medals, the winners received cash prizes of $1,500 (first), $750 (second), $300 (third) and $200 (fourth) from the sponsors, Mahatma Rice and Robin Hood Flour.
Dwayne and Sherika were also awarded $10,000 and $5,000 scholarships respectively by Lincoln College of Technology.
The judges for the senior contest were: Chef Edwin Johnson, Sapodillas Restaurant; Chef Emmanuel Gibson, Atlantis; Debbie Wheeler, manager of Test Kitchens for Mahatma Rice; and Chefs David Pantone and Manfred Schmidte of Lincoln College of Technology.
Chef Johnson, who's been with the competition since it's inception 20 years ago, said: "Organisational skills have developed and improved tremendously as well as overall presentation including balance, colour, knife skills, sanitation, nutritional value and the incorporation and utilisation of indigenous products. The students seem to be more relaxed and confident overall."
In addition to providing almost $4,000 in prizes each year, Mahatma Rice and Robin Hood Flour also provide transportation to Nassau for each contestant with his or her teacher/coach; and cash stipends to assist with the purchase of supplies.
Minister of Education Desmond Bannister and Bahamas Hotel Association executive vice president Frank Comito both addressed and congratulated all of the participants.
Mr Bannister said: "I take great pride in the diligence of the students who participate in this Young Chef Championship. You are so focussed. This tells us you are passionate and to have that quality so early says you will stay on track. You show great potential for a rewarding future.
"Thank you to Keith Parker for the vision 20 years ago to begin this venture. Many participants are already in the industry or teaching in our schools. Many are giving back to the nation."
Mr Parker, president of PS Advertising and Public Relations, organises the competition each year, in co-operation with Sharon Ferguson of the Ministry of Education.